posted Nov.26.15 at 10:00 pm

I remember thinking that I'd been told the plural of "fungus" was "fungi," but then realized that Egon was smarter than all the adults I'd ever met so funguses it is.
Here's the old strip without the handsome purple envelope!
OH HEY, BONUS!! It's Black Friday (lord save us all) and Lelo wanted to give y'all a little gift for reading GWS and loving things that go BBBZZZZZZZZZ in the night, like their vibrators.*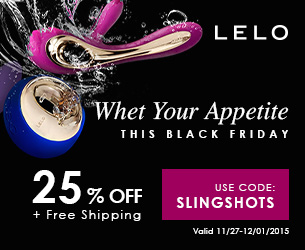 Their vibes are already 20% off for Black Friday, but if you use the code SLINGSHOTS at checkout, you'll get... okay, well you can read it yourself, but I'll write it out anyway: 25% off plus free shipping! THAT'S A LOT because these suckers aren't exactly cheap!!
Be sure to take advantage of the sale before (or on) December 1st, after which it'll expire. Thanks, Lelo, and you're welcome, readers!!
*All my Aces out there, unless you like occasionally buzzin your junk, pretend they're selling expensive "massage wands." Actually... they kind of are. Anyway, if any of these look like they'd feel divine on your feet or the base of your neck or your cat's ass or whatever, I'm not gonna judge where you put it!