Katsucon in DC this weekend!
Posted February 16, 2011 at 03:01 am
Hey, locals! In case you didn't know, I'll be in southern DC this weekend, at the Gaylord (hurr hurr) in National Harbor, Friday through Sunday!
Katsucon
is an anime convention, so this'll be a new experience for me. By "new" I mean "not since college," as Katsucon 2000 was the first convention I ever attended (hooray for college boyfriends who love anime!).
Apparently at anime cons, it's customary to choose your own appearance hours, which means I don't have to be at a table the whole weekend. But I'd like to be as available to y'all as I can, so here's my schedule!
Friday
1:00-2:00  Panel: Cartoonist's Daily Routine (Live 3/NH 13)
2:00-5:00 Signing at the Webcomics Guest area!
5:30-7:00 Panel: Make Me LOL
Saturday
12:00-6:00 Signing at the Webcomics Guest area!
Sunday
12:00-3:00 Signing at the Webcomics Guest area!
3:00-4:00 Closing ceremonies
Hope to see you there! I'll be selling buttons, books, prints and posters, and I'll be bringing the McPedro prototype with me so you can see him.
Speaking of which, lest you forget: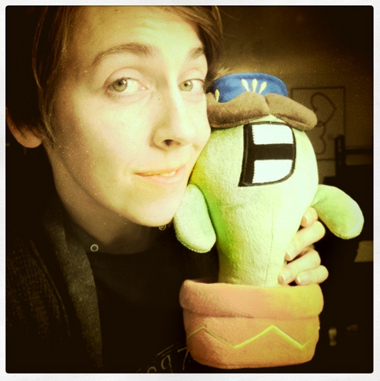 Comments
Join the GWS mailing list!
It's free, infrequent, & not annoying.