Austin! Also: Sex toys!
Posted December 5, 2011 at 02:39 am
First things first!
AUSTIN, TEXAS!
I am coming for you this weekend, along with a lot of
really really awesome fellow webcartoonists
.
Please note that the hours for Webcomic Rampage are VERY DIFFERENT than last year's. We're starting at 6:00 Saturday and doing three panels between that evening and Sunday night, selling our wares in between. (See schedule at right for details!)
And since we're talking about wares, I'll have
plush McPedros
this time! As well as
GWS Books 1-5
! Unfortunately, Book 6 will NOT be here in time, BUT! If you show up to this weekend's Webcomics Weekend, you'll be able to order Book 6 with free shipping, signed and sketched by yours truly, free of charge. I'll be signing books just a few days later in Montreal, so they'll be shipped out the following week. :) Crisis averted!
Next topic:
SEX TOYS!
Yes sex toys.
I was recently gifted several very VERY nice toys by some rather well-known companies. Seeing as Christmas is upon us, I wanted to make a suggestion to those of you who have a girlfriend/best friend/sister/mom/aunt (if you roll like that) on your gift list and you just don't know what to get her.
Get her this.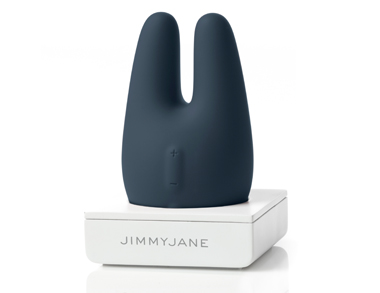 It's called the
Form 2
from
Jimmyjane
.
I'd like to give a more *ahem*
thorough
review at another time, but for now, let's just say, ah... this is all she needs.
Well, I should be more specific: this is all she needs IF SHE LIKES VIBRATING INSTRUMENTS PLACED ON HER HOO-HAH. By "hoo-hah" I mean clitoris. There, I said it.
This thing is super-powerful and has a fun, useful shape that fits perfectly in your hand. Each ear has its own little vibrator in it, and they're slightly flexible. Here's a quick list of features:


made of delicious, delicious silicone


rechargeable (dock looks like an Apple product)


waterproof (WATERPROOF!!)


4 vibration modes, 5 power levels


travel setting


3-year warranty


little lights glow through it while charging, like a robot
What really won me over is the navigation. Bottom button controls the pulse, up and down buttons control the power levels (thus far I've only mastered the 3rd one, it's like a goddamn video game).
This is important because, if you're anything like me, you're not exactly capable of determining which button does what - let alone 1st grade math or remembering your partner's name - when you're in the middle of you-time. When you say "WH-WH-WHERE'S THE UP BUTTON," the Form 2 says "shhh, my child, it is right here."
One word of caution: ONLY use water-based lubes with silicone toys! So go ahead and order some while you're at the website, before you hit the checkout.
Well, I was going to keep that short, but I have a hard time shutting up about this thing. This is my favorite toy of all time, and it could be hers, too. Fuck the Lexus, man, get her something she can use when she's had too much to drive!
Comments
Join the GWS mailing list!
It's free, infrequent, & not annoying.