McPedro shirts, Ghost Kitty shirts, Grammar prints!
Posted December 8, 2011 at 02:01 am
Hey guys! I'm home for a hot moment after signing books at Dragon's Lair in Austin, before I head up to Montreal to sign MORE books. Thanks to everyone who came out to Austin! You guys really truly round out my year, and I never feel as loved as I do at that signing. Thanks for ending my year on such a sweet note. :)
I came home to a few sweet-ass new items in the shop! I've been excitedly keeping mum about this for awhile.
Y'know how I never have tee shirts? Well,
I have tee shirts
.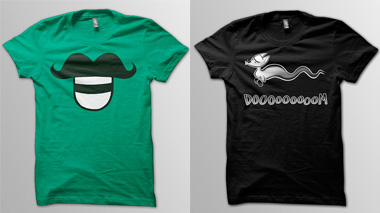 The McPedro tee will basically turn you into an Instant McPedro, and Ghost Kitty
GLOWS IN THE DARK
! Both shirts come in men's and ladies' cuts.
Also, some of you may have noticed that the Grammar Strip print (as well as all other prints) has been removed from
my Etsy store
- this is because my printer finally kicked it. Luckily, Blind Ferret was able to pick up the slack and
offer the print from their store
instead (on the same luscious paper, even!).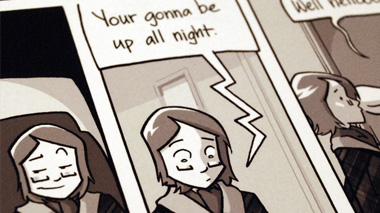 So if you've got a grammar lover in your life, or someone who just loves Maureen and Jameson, you might wanna pick this up for 'em. :)
Okay, that's about it! If you've pre-ordered an artist edition book, I'll be signing them Thursday and Friday in Montreal (not a public signing, just me and a pile of books and a few helpful Ferrets), and they'll be in the mail first thing Monday!
Comments
Join the GWS mailing list!
It's free, infrequent, & not annoying.