Megacon!
Posted February 14, 2012 at 07:00 am
Hey guys! While I'm at
Katsucon
this weekend, the boys from Blind Ferret will be at
Megacon
in Orlando, and they'll have GWS books with them!
Just thought I'd let you know in case you're, well, y'know, in Florida instead of Washington, DC. ;)
If I WILL see you at Katsucon this weekend, I forgot that I'll have one more item with me! The rare, elusive... KITTY FAMILY POSTER: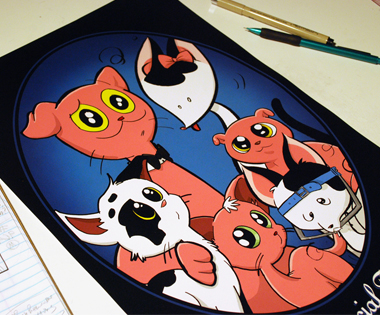 Numbered, signed by both me and Randy, and if you ask real nice, I'll even draw in Ghost Kitty in silver for you. :) Printed on nice thick poster stock, just $15.
Comments
Join the GWS mailing list!
It's free, infrequent, & not annoying.