FREE book signing for a limited time!
Posted June 4, 2012 at 03:20 am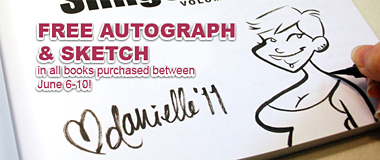 Hey guys! I'm heading up to Montreal at the end of this week to meet with 
Blind Ferret
(y'know, those guys who do everything for GWS except make the comic... still trying to get them to do that for me), so I figured I'd make book autographs available to everyone while I'm up there!
All book orders
from now (Wednesday, June 6) through Sunday (June 10) will be signed by yours truly, as well as being sketched in. I won't be taking personalization requests (I'm only in the office for a day!), but hell, it's FREE, why not take advantage of it!
Oh, right, I didn't mention that until now:
IT'S FREE
.
This offer won't be available again until around Christmas (assuming I can even do it then!), so if you wanted your books signed & doodled by moi, this is it!
Comments
Join the GWS mailing list!
It's free, infrequent, & not annoying.