Lazy weekend catch-up
Posted July 26, 2012 at 04:43 am
I hope you guys don't mind that I took a break from the digital colors and dialogue tonight!
Yesterday's strip
kinda kicked my ass!
This is supposed to be Jamie and Hazel on the Space Whirl in high school, though I think they look pretty much the same these days. :)
Hey, remember that
Kickstarter campaign
that my Benign Kingdom pals and I started at the beginning of the month? Well, we surpassed our goal of $15,000... umm, we kinda hit $100,000!
So, to everyone who pre-ordered a book via Kickstarter: THANK YOU!!! We're over the moon that these books are selling so well. I really hope you enjoy them!
At this point, because we've raised so much, the books will be of highest print quality, and most of the orders are getting extra goodies like prints from each artist, patches, zipper pulls, and a sampler book that includes the spring 2012 artists as well! DAMN DUDES, we're gonna need bigger boxes!!
We've only got 3 days left for this Kickstarter, and if I'm not mistaken, this will be your ONLY chance to order these books to be shipped via mail. Each artist will have their own art books to bring with them to conventions if they so choose, but I mean, you'd have to physically go to a convention to pick it up, so that's pretty limiting! If you want to be sure you'll get a book,
you can still place an order Saturday, Sunday, or Monday
(plus you get all the extra goodies!).
And in case you missed
my original post
, the artists featured are myself, Anthony Clark of
Nedroid
, Aaron Diaz of
Dresden Codak
, and
Emmy Cicierega
. Like so!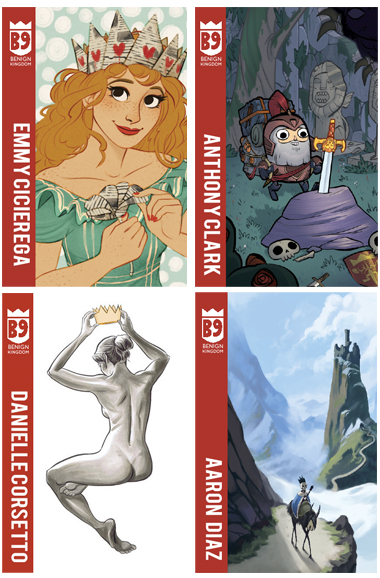 Assuming I get my shit together in time, I'll have a great big new announcement to make on Monday. If I don't get my shit together, then perhaps Tuesday. See ya then!
Comments
Join the GWS mailing list!
It's free, infrequent, & not annoying.