TGIWTFBBQ!
Posted August 9, 2012 at 04:36 am
(I actually am having a BBQ tonight! Albeit a
potentially wet one
.)
Thought I'd start up a new blog post, since the last one had like 1,400 COMMENTS HOLY SHIT GUYS!
Thanks SO MUCH to everyone who sent in requests of places for me to come visit on my trip next year! You really helped me figure out how to do this. I wrote up a little rough plan: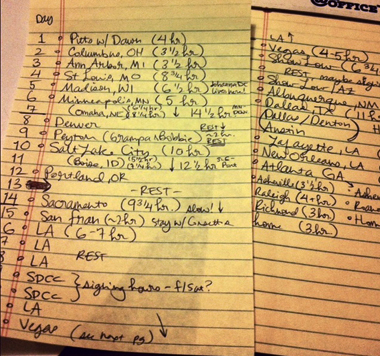 ... but it's just a first draft so far. 30+ cities in 36 days, I'm so excited!
I've got some extra special shit in the works for the trip, but I don't wanna give you spoilers just yet. I can't wait to share, though. :)
Thanks (as usual) to your helpful suggestions, I should have a new print available Monday... keep your eyes peeled!
Comments
Join the GWS mailing list!
It's free, infrequent, & not annoying.