Hazel Jamie Carnival Prints!
Posted August 21, 2012 at 03:07 am
Howdy, strangers!
Well, I was gonna share a link to my
Etsy shop
and let you know that
the original watercolor
for that Hazel and Jamie at the carnival piece I did was for sale, but uhhh... someone bought it already. Thanks, someone!!
So I'll just reiterate that if you were interested in that piece,
prints are available!
Checkitowt!
And they're being sold, printed, and shipped by a company I trust, so there's that. Much less cat hair in GWS online merchandise purchases these days.
Speaking of Etsy stuff, though, have you seen the cute stuff in Lauren's GWS-centric Etsy store? Just a few examples: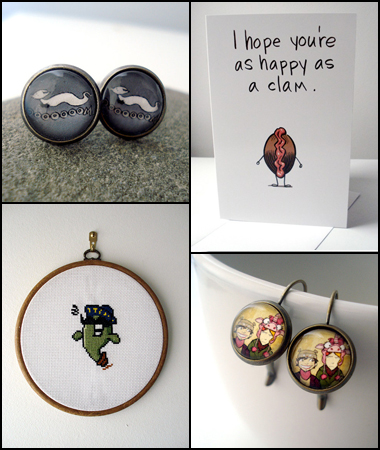 That's some really cute shit right there. And Lauren's a good pal of mine (I just got back from her bachelorette party, wooo!) whom I also trust. Look at all these people I trust! Buying GWS goodies is like one big trust fall that you don't have to get nervous about!
Alright, that's all I had to say. Hope you enjoy the stuff that's for sale! SORRY I DON'T HAVE MORE ORIGINAL ART, I'll try to remedy that soon!
Comments
Join the GWS mailing list!
It's free, infrequent, & not annoying.