Puzzles and Plushes and Thanks!
Posted February 18, 2013 at 02:01 am
A few notes before I crash!
Puzzles!
Dudes, my super-talented friend
Chris Yates
created a BUNCH of handmade puzzles based on webcomic characters, and he's putting them all up for sale on eBay today! I was honored and impressed that he decided to puzzle-fy my design for
GWS Book Six
: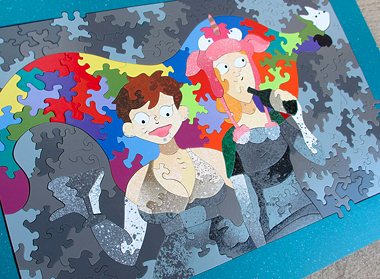 You can see all of the other rad webcomic designs here!
 And I'll be sure to share a link to the auction once it's up!
Plushes!
Your voices have been heard! The majority vote for the new plush went to
Ghost Kitty
, but the close runner-up was
Special K
. So I'll do designs for both and see which one you guys like the best!
The next plushy probably won't come out for many months, so sit tight! I'll be asking your expert opinions* later on when the time is right.
*no, that wasn't sarcastic, you guys are actually the ONLY experts on What GWS Readers Want. :)
Thanks!
Just wanted to send out a huge 
THANK YOU
to all the people who have donated stuff from my wishlists! I was just running out of
Zebra pens
(there's the link, in case you artists wanna know what I'm using these days), and many of you helped replenished my stock. Plus I'm listening to a rad new M83 download, thanks Todd!
Turns out JetPens doesn't give me any contact info for the people who send gift items to me, so I just wanted to thank y'all here. :) It means a lot to me that you want to support the comic like that.
Comments
Join the GWS mailing list!
It's free, infrequent, & not annoying.