New Lelo giveaway!
Posted July 21, 2013 at 10:02 pm
**QUICK NOTE! Turns out JimmyJane is ALSO having a summer sale, but I caught it a bit late! Us the promo code SUMMER2013 to get 20% off anything in the store! Woohoo!**
Hey y'all! Lelo wants me to give you something. (Insert filthy joke here.)
Y'know how people, like, get married sometimes? It seems to happen a lot. Well, if you have a wedding, bridal shower, or bachelorette party in your future, might I recommend giving the lucky couple Lelo's Bridal Pleasure Set?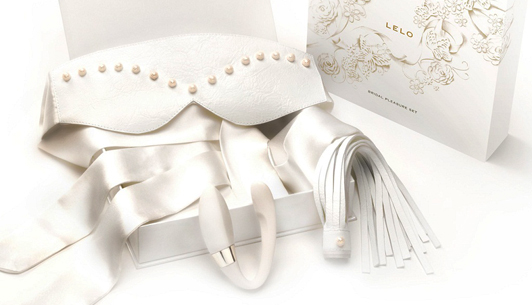 The set includes a pearl-studded silk blindfold, suede teaser whip, and the bestselling couple's vibe, Noa, all in a pretty white box, for $199.
Oh, but you don't like the couple THAT much? No no wait, you like the couple, but your wallet is empty. Okay, not to worry! We're giving away a set. (If you win it, I promise I won't tell your just-married friends that you got it for free, you cheapskate.)
All you have to do is comment in the comment section below and mention the word "WEDDING" somewhere in your post. You can say that you wish somebody had gotten you this set for your WEDDING last year, you can talk about Thea and Mimi's upcoming WEDDING, you can brag that you banged the best man last week at a WEDDING, you can tell me how much you fucking hate WEDDINGs, it doesn't matter. Just use the word WEDDING in a sentence somewhere in the next three days, and you're eligible to win. :)
Oh, and if you don't win (or if you really don't give a shit about this rad gift that your afianced friends/fiance would totally appreciate), but you really wanna buy something from Lelo, good news! I still have something for you.
Lelo's having a 20% off sale on ALL OF THEIR PRODUCTS this week, until July 27th at midnight! Just use the promo code SUMMER at checkout. Bam. Easy.
Personally, I've heard really good things about the Lily, if you'd like a starting point! Now, tell me all about WEDDINGS...
Comments
Join the GWS mailing list!
It's free, infrequent, & not annoying.