Help me raise $3,500 for the Patrick Dempsey Center for Cancer Hope & Healing!
Posted September 8, 2013 at 10:15 pm
(Boy, that's a long title!)
First things first, thanks to everyone who came out to Baltimore Comic Con this past weekend! It felt great to be back at a con after a full summer off, and it was wonderful to meet up with so many GWS readers, both familiar and new, and to be back at a show that I've been going to for nearly a decade now.
While I was at Baltimore I got to visit (albeit too briefly) with my old friends Jamie D and Shane from the Comic Geek Speak podcast. The CGS gang (and Wild Pig Comics, while I'm at it) and I go waaaaaaay back and these guys are like family to me now.
As followers of the podcast may already know, Jamie's been dealing with cancer over the past few years. While cancer and I have never been friends, we'd never really been acquaintances either, and picking a fight with one of my friends was a dick move... so let's just say that I now strongly dislike cancer.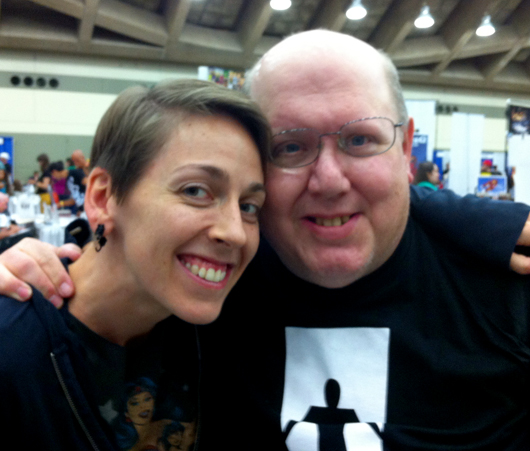 (Don't fuck with this guy, I'll mess you up.)
In retaliation, I'm walking the Dempsey Challenge in honor of Jamie this October, and I'd like to raise $3,500 for the Center for Cancer Hope & Healing, which offers free support & education to people who've been affected by cancer. I'll be walking with my mom and our extended family (aka very good friends whom I've called my aunts all my life), and returning to my "second home" in the Lewiston, Maine area, where my mom and her family grew up.
I'd love to raise the full $3,500 (and then some - it all goes to the Center!) with your help. If you'd like to donate, please visit my donation page; I'd appreciate it so much!
Alternately, if you'd like to help raise funds for my mom or any of our team members (all of whom are coming from out of state, from my mom and I in the Maryland/WV area to Florida and Austin), the team web page is right here! As of right now, my Aunt Candy is kicking all our asses. ;)
Thanks so much for your support! And if you yourself happen to be walking the Challenge in October, please say hello if you see me!
Comments
Join the GWS mailing list!
It's free, infrequent, & not annoying.