GWS Store is FINALLY (re-)OPEN!!
Posted November 11, 2013 at 02:13 am
Hey pals! After closing up shop MONTHS ago, GWS merchandise is finally available online again!
In a move that will likely come as a surprise to no one, GWS has joined forces with the famed TopatoCo for merchandise fulfillment!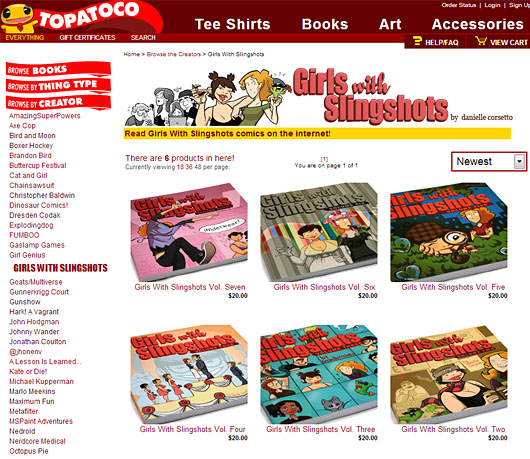 For now we just have the books in the shop (and Book One is going to reprint, so it's not available yet), but we'll have the rest of the stuff - including Special Kitty Mousepads, McPedro and Doooom Kitty tee shirts, Strip Scrabble posters, and BELIEVE IT OR NOT, about TEN McPedro plushies that we found (!!!) - up by the end of the week!
(Just to give you a heads-up, we WON'T be printing Book Eight in time for Christmas this year; it'll be early next spring.)
The best news about GWS joining with TopatoCo is that they already fulfill orders for a TON of your favorite webcomics, including Questionable Content, Octopus Pie, Hark! A Vagrant, Johnny Wander, all'a that good shit! So you can save on shipping by purchasing stuff from other comics in the same order.
So, go! Spend! And finally own those books that you wanted to buy back in April when I was a dick and took my shop off the Internet.
That's it for today. Check back soon for WAY LATE announcements about ComfyCon, coming this weekend! We hope you're ready to relax and spend time in front of your computer this Friday, Saturday, and Sunday!
Comments
Join the GWS mailing list!
It's free, infrequent, & not annoying.