ORIGINAL ART SALES and Webcomics Rampage in Austin!
Posted November 25, 2013 at 12:59 am
Happy five-days-before-Black-Friday! In anticipation of people freaking out buying shit for other people who are freaking out and buying shit, I put up a handful of my favorite GWS originals on my Etsy shop, and they're available for purchase now!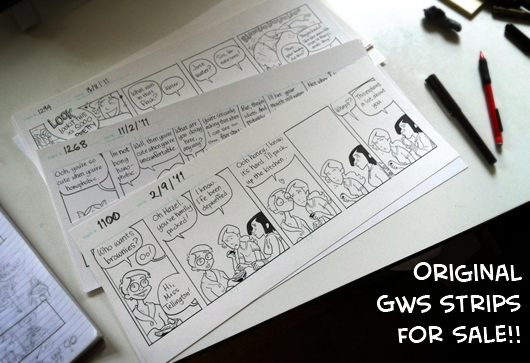 Original strips are 17x7" on bristol board and they're all fully inked & lettered, as well as numbered, dated, and signed. Each strip is priced at $75 and shipping is $8 for US/Canada, or $12 anywhere else (the shipping price is exactly the same even if you purchase 2 or three strips, btw!).
I don't sell my originals very often, because when I do it means I have to hire someone to pack and ship them for me! Luckily my pal Nan will do the job next week. (Thank you, Nan!)
Oh, and we finally have a button up in the menu for my REGULAR shop, which is back online and has tons of GWS merch including books, tee shirts, posters and even a mousepad!
Also: hey Texans! You know that I'll be at Dragon's Lair in Austin, TX in two weeks for Webcomics Rampage, right? Of course you did.
I'll be at the signing on December 7&8 with a SLEW of rad webcomics folks, including Randy, Jeph, Ryan, Malki!, Willis, McGuire, Joel, Rob, Lar (FUCKING LAR IS COMING!!), EK and more! I'll have GWS books 2-7 (1 is still in reprint!), prints, iPhone cases (hell yeah that's what I said!) and copies of my Adventure Time book!
Oh wait... BETTER YET... I may very well have copies of BOTH OF MY ADVENTURE TIME BOOKS! The second one I wrote comes out THIS MONTH and we should have hot-off-the-press copies at Rampage, woooo! The new book is called Pixel Princesses and LSP and BMO are in it so if you know what those acronyms mean you'll probably love it.
By the by, if you'd like to hang out with us artists semi-exclusively at a nifty bar/restuaraunt/vintage bowling alley (includes dinner & 3 drinks) the night before Rampage, there are still LIMITED SLOTS available for our Friday night mixer on Dec. 6th from 6-8 pm at The Goodnight! Tickets are $100 per person. Come join us if you dare!
Comments
Join the GWS mailing list!
It's free, infrequent, & not annoying.