Comic Creators for Freedom Fund Raiser, Baltimore this weekend, and Something Positive!
Posted December 12, 2013 at 02:31 am
Hey guys, I've got some scrumptious tidbits for you this news post! Serious Time first:
Comic Creators for Freedom
I failed to mention this earlier, but there are still TWO DAYS LEFT to pick up this year's wallpaper from Comic Creators for Freedom that includes various webcomic characters in all their school picture day glory, from a whopping 167 participants! Naturally, this means teenaged Hazel and Jamie are in the wallpaper (Hazel's has a laser background!).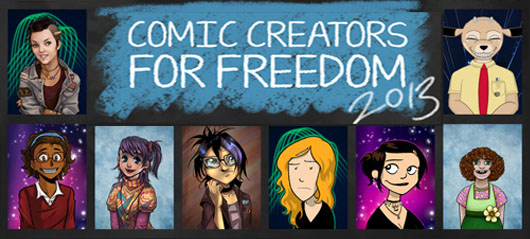 The fundraiser is for a cause and organization very near to my heart, Love 146. Please take the time to browse their website; they do tremendous work both here in the US and abroad. They are fighting for the victims of human trafficking, as well as raising awareness of this heartbreaking worldwide problem.
Bmore Into Comics in Baltimore
This weekend I'll be at The Wind-Up Space in Baltimore with several other cartoonist pals for the second Bmore Into Comics event! Basically: comics in a bar.

Come visit us from 12-5 pm! I'll have GWS books and prints, iPhone cases and probably some original art, AS WELL AS my new Adventure Time OGN, Pixel Princesses!
Something*Positive and GWS
Just a reminder, Randy is borrowing Candy over at Something*Positive right now! You can read her interactions with Davan at his bachelor party starting right here.
Comments
Join the GWS mailing list!
It's free, infrequent, & not annoying.