Smut Peddler, and Jamie D
Posted May 2, 2014 at 02:41 am
Hey guys, here's a quick weekend update.
First things first, my dear friend Jamie Dallessandro passed away Friday morning. He was one of the fine, fine gentlemen who host the Comic Geek Speak podcast, and he's been beating down cancer for around five years. He's the fella I walked in honor of at the Dempsey Challenge last October; you may remember his face: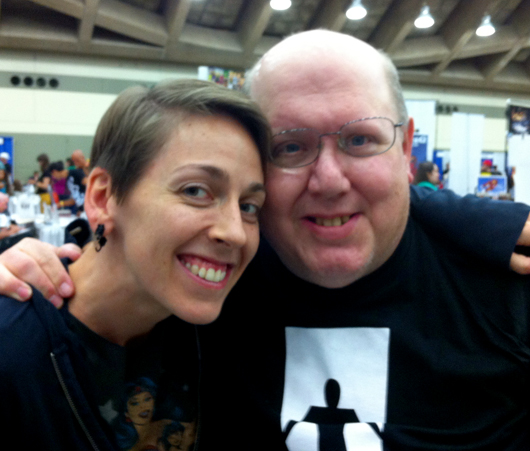 I won't go on about it at length, as I've already posted my thoughts on Facebook and I know most of you don't know him, but those of you who did (or have been charmed by him on the CGS podcast), I wanted to make the announcement here. Jamie's gonna be hells of missed.
So, now I need to make an announcement about Smut Peddler, and while that seems like a seriously crass juxtaposition, let me reassure you that, over the years, Jamie surprised me with his hilariously dirty sense of humor. So, I think he'd greatly appreciate my talking up a smutty book right below his face.
That said! Here is a second image for this news post, and instead of a friendly face, it's a gigantic link with a picture of a burlesque girl. Click on it. Buy dat smut. You can only buy it for like 60 more hours as of this posting!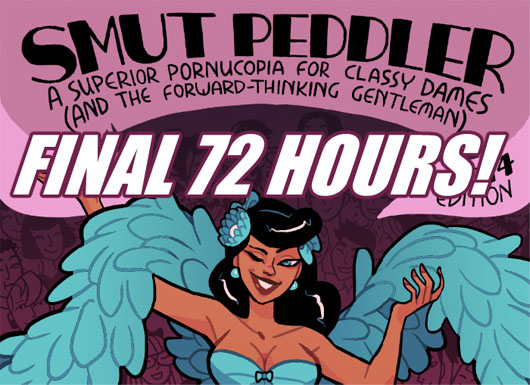 We're up to something like $1200 in bonuses for each artist team on the book, which I am VERY happy about; thanks to everyone who's already backed our project!
And if you haven't, and wanna, preorder your book this weekend! Or, if you don't wanna, would you consider passing the link along to your filthy friends who pine for more female-friendly smut?
Thanks for your time, and sorry to end this tearful comic with something that makes me and many others so tearful. RIP, Jamie D, we all love you so much. I hope you can pick up a copy of Smut Peddler up in Heaven or wherever fitlhy-minded people like us end up. <3
Tags:
note
,
Father
,
Roller Derby
,
Derby Girls
,
Derby
,
Charlie
,
woods
,
scenic
,
pond
,
Trailer Park
,
Wedding
,
Mimi
,
Thea
Comments
Join the GWS mailing list!
It's free, infrequent, & not annoying.