TCAForeverrrrrr!!
Posted May 6, 2014 at 10:00 pm
If only TCAF were forever!
This weekend at the Toronto Reference Library, I'll be at table #266, right across from TopatoCo! And next to something labeled the Bar, I guess?? I like this show more and more every year.
Here's a map! I drew on it with my finger.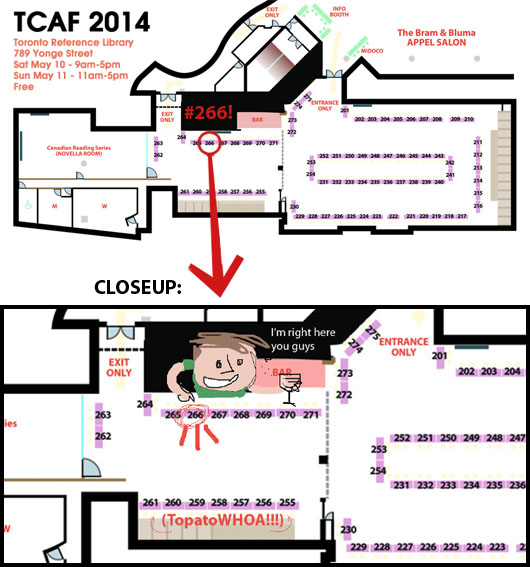 I'll be at my table both days, but!! I'll be gone for a little while during each day:
Saturday I'll be gone from 3:30 to close.
Sunday I'll gone from 11:45 to 1:30.
I'll be at my table every other moment that TCAF is open, unless I'm peeing!!
If you positively must see me on Sunday from 12-1, you should! I'll be in Learning Center doing a little workshop on webcomics! I have absolutely nothing planned, so maybe we'll just chat about webcomics. It'll be real sweet. :3
Even when I'm gone, my wonderful assistant Jan will be there taking care of sales, in case you just wanna buy a book without meeting me. In fact, if you'd like to buy a book and are too shy to say hello to me in person, come over when I'm not there and say hello to Jan instead! He's really nice and knows a lot about webcomics.
I'll have with me TONS O' GWS BOOKS, Adventure Time books (both Playing with Fire, and Pixel Princesses), and my B9 Kingdom books packed with figure drawings I've done over the past ten years!
Can't wait to see all your smiling faces!!
Comments
Join the GWS mailing list!
It's free, infrequent, & not annoying.