Kickstarter News: original art and LET'S GIVE OUR GUEST ARTISTS BONUSES
Posted June 1, 2014 at 11:00 pm
Hey y'all! It's time to give you a little update on the Summer Tour Kickstarter campaign!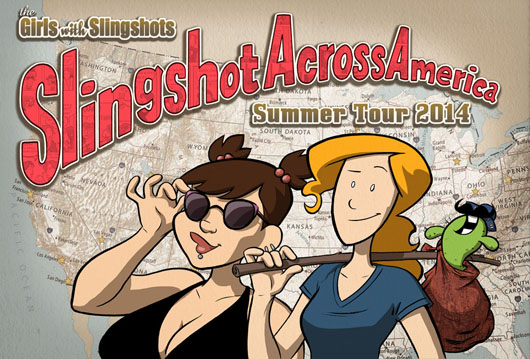 First of all, WOW, we have doubled the original goal of $10k and reached $20.5k! Thanks a LOT for all of your support, and to everyone who's been sharing my KS campaign with their friends!!
As of posting this, we're $1,000 shy of the next stretch goal, which is $21.5k. Upon reaching that amount, each of our guest artists for the summer will be given a bonus $50/strip, which would make me so happy. In case ya didn't know, the guest artists will be:
If you like these guys (or even just one of these guys), and you want them to make more money, by all means, help us knock that funding up a grand!
Speaking of which, I feel I should go into detail on a few of the rewards that are remaining...
Official Tour Wallpapers, Postcards, Prints, and Posters
Absolutely every person who backs this project, no matter how large or how little your donation, will have access to wallpapers of the tour postcard image, which my loyal intern Stephanie has already converted into sizes for smart phones, tablets, and computers of various sizes. She'll also be converting the poster image into wallpapers, because why not? (I have it on my iPad already, and it looks fuckin' sweeeeeet, if I say so myself!).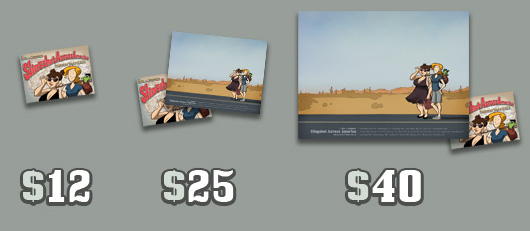 The tour postcard, prints, and posters will be available no matter what! There's no limit on these rewards. :) The postcards are $12; the prints are 8.5x11" and are $25; and the posters will be 18x24" and will be super handsome-looking on a semi-gloss/matte paper, and thus cost $40.
Everything will be tastefully signed (no dick drawings or anything!) by yours truly. By "tastefully" I mean that I won't ruin your artwork, I'll just make it classy-lookin' and legit. B)
Original GWS Art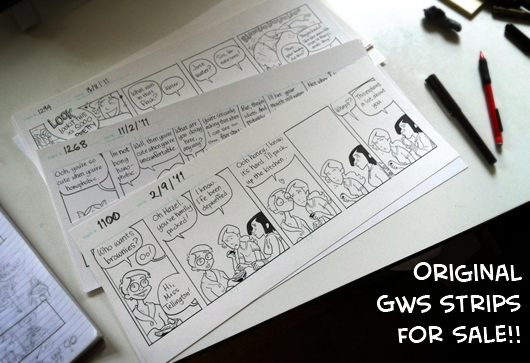 If you'd like an original 7x17" strip, you can still get them at the $150 donation level! You pick the character or storyline, and I'll pick out a good one for you! This package also includes the tour print and a tour postcard.
Because so many people have been asking: YES, you can request a specific strip number, but if that particular strip is unavailable, I'll need some backup options, which is why I'm asking for your favorite characters or stories. The reason it's not a straight-up "choose your number" is because I don't want to disappoint anyone if their favorite strip has already been sold! I'll be picking these out by hand, so just trust that I'll give you a good one. :)
Also please keep in mind that the 7x17" strips are #146 and beyond; #1-145 were all drawn on 9x12" bristol, which is why they're part of the two highest Vintage Packs (which have since sold out!).
Original Tour Poster & Postcard Art
The original inks for both the tour poster and the tour postcard are still available! They're being sold TOGETHER and at the $500 level, which is pretty high, so here are some photos of the artwork for your browsing pleasure: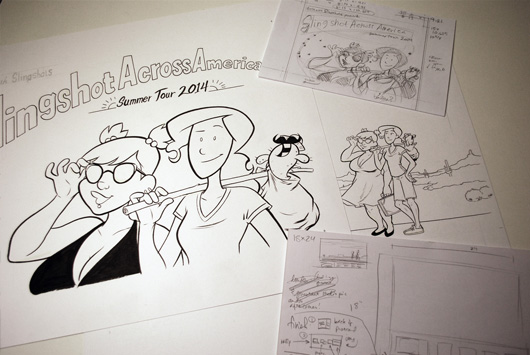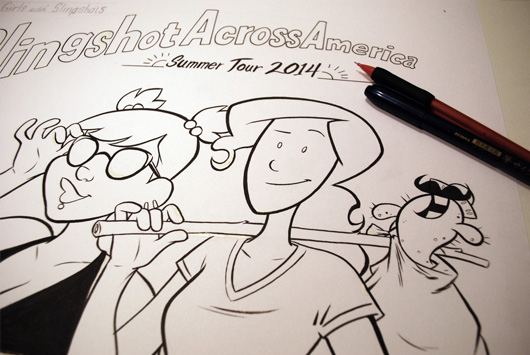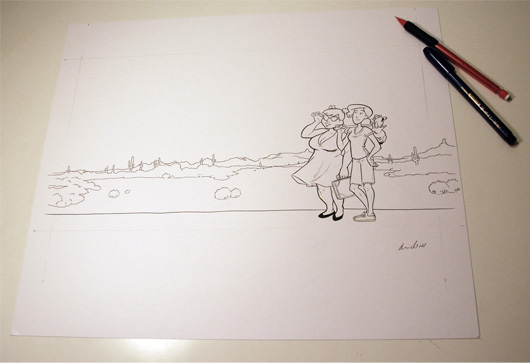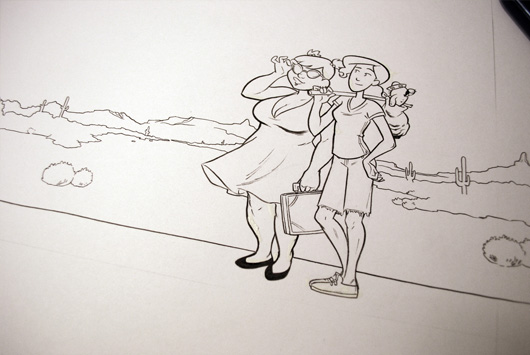 Both of the originals were drawn on 14x17" bristol board, and they'll come with not only all of the concept art (shown above), but also a copy of the tour postcard, print, and poster.
Extra Rewards!
I'm very busy working on my next Adventure Time graphic novel for the next few days, so I won't have time to finish the *new unlimited reward* that I've decided to do until next week - no spoilers! Except that a LOT of you have been hounding me for prints of it, and I promise you'll like it! :)
Speaking of, I'm considering making one special Adventure Time-themed reward, too. If I can get photos and sneak peeks together by Wednesday, I'll mention it right here in the blog.
Thanks again, very much, to everyone who's been helping us out, promoting the campaign and spreading the word! You guys are making this trip WAY easier on me, my interns, and my travel assistants, for which I am extremely grateful.
Comments
Join the GWS mailing list!
It's free, infrequent, & not annoying.