Kickstarter Update: New Adventure Time rewards added!
Posted June 9, 2014 at 12:36 am
I hope you all missed Claroshua. I know I did. :)
You can bet your ass I didn't color today's strip. Can we all just take a moment to marvel at Laeluu's hard work, here?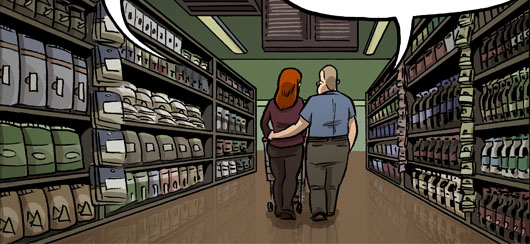 She even put details on the VEGETABLES.

Holy geez, man.
In Kickstarter news, I've added TWO NEW REWARDS!! They have to do with Adventure Time and they have to do with the book I just finished.
You may already know that I wrote two Adventure Time OGNs published by BOOM! last year: Playing With Fire, and Pixel Princesses. They're both stand-alone stories (meaning you don't need to read them in order) and they were both drawn by Zack Sterling. Same goes for the new book, which doesn't have a name yet!
The newest book should come out sometime later this year, and when it does, one lucky $80 backer will get ALL of the behind-the-scenes stuff I have. The script, the pitch, all of the sketches and notes I jotted down while "researching" (and yes by "researching" I mean "watching childish amounts of Adventure Time episodes"). Plus, naturally, the actual book, signed & sketched-in by yours truly.
I've also added 20 slots for JUST the book, which will ship sometime later this year, for $25 - that includes shipping!
If you have any questions, please shoot us a message on the KS page - myself or my wonderful intern Stephanie will get back to you as soon as we can.
And just in case that link up there is too tiny for you to tap/click/lick, here's a giant picture that will link you to the Kickstarter campaign!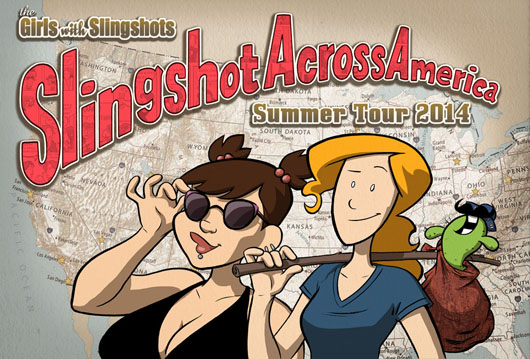 We're around $23k as of this posting, and at $25k all of the guest artists will receive an extra $50/strip for their summer guest strips! Hooray!
I'll be adding one last reward before the campaign ends in TEN DAYS; keep your eyes peeled!
**edited to add: I wanted to add earlier, in case you weren't aware, that there are actually FOUR AT graphic novels that will have been put out before my next one debuts! I wrote the first two, but the excellent Kate Leth wrote two more after that! Her first one, Seeing Red, is out in stores now! I still haven't read it (because I'm a jerk), but I can't wait to get my hands on it!
Comments
Join the GWS mailing list!
It's free, infrequent, & not annoying.