Kickoff THIS FRIDAY in Shepherdstown, WV!
Posted June 22, 2014 at 10:05 pm
Oh MAN does it feel good to be back to doing comics! (Yeah, I know, more eyes in the dark... but it's not like anyone flipped the light switch over the past week.)
So... HEY LOCALS!! I've got a helluva good time in store for you this Friday night.
I'll be kicking off my Slingshot Across America tour THIS FRIDAY from 7:00-9:00 at Shepherdstown's own Four Seasons Bookstore, just down the street from my humble home. I'll be signing GWS and Adventure Time books, and I *should* have all of the tour prints and posters available as well.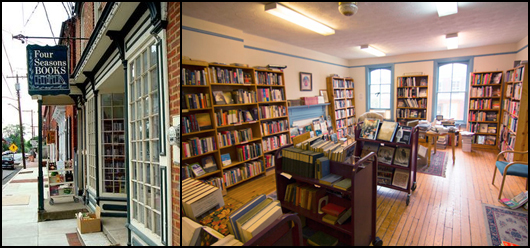 Four Seasons is this INCREDIBLE little independant bookstore on the main street in Shepherdstown, German Street. It's been around since 1991 and I DARE you to walk in and not find something you absolutely must own. They have a wonderful selection of fun books, classics, art books and graphic novels. I can't walk into that store without buying something (okay, I lie, I just did it this week, but that was the first time ever).
We'll have light food & drinks from Mellow Moods and Grapes & Grains, respectively... oh, what was that? Did you just ask "Isn't Grapes & Grains the fictional booze store Hazel works at?"
Oh-ho, perhaps you didn't know! Many of the places in GWS are based on real places in Shepherdstown! Grapes & Grains, Hazel's old apartment (right above G&G), the Meck, even Four Seasons have all been featured in GWS.
And yes, of COURSE we're all heading to the Meck after the signing. And of course you're welcome to come along!
I'd like to welcome anyone who can drive up or down or over for the event to please join us. It's gonna be a blast, and I'd love to meet some local readers. :)
Oh hey, and speaking of a blast! My dear friends Laura Mae Socks, Jon Bertrand, and their crew Matt Metz and John Miller will be playing a house concert in my living room tonight, and you're all invited.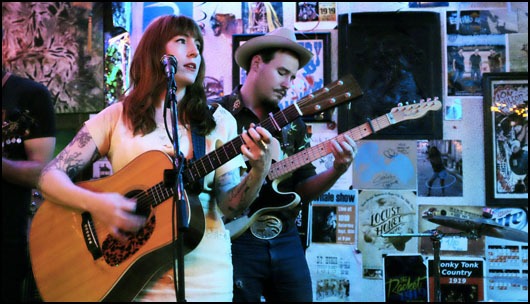 The show will be broadcast live starting at 9:00 EST tonight on Concert Window, which means you can watch it along with us!
It's pay-what-you-want to get in, and you can tip the band and request songs if you'd like. If you enjoy old country music, tune in - we'd love to have you! My gal Chelsea McBee, who wrote the song that plays in my Kickstarter video, will also be in attendance! It'll be like hanging out with us without having to put on pants. Cool? Cool, see ya there. :)
Comments
Join the GWS mailing list!
It's free, infrequent, & not annoying.