LIKE A CHAMPION
Posted February 19, 2020 at 10:00 pm
You will always have my permission to use that third panel out of context: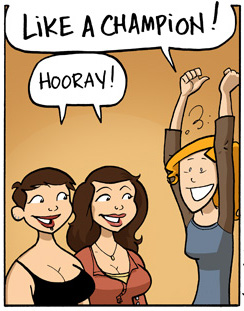 Here's the old post! Oh and hey, I've been doing little animations and sharing them with my Patreon patrons, but also on Twitter, if you wanna see them. First one is of Pip, and the most recent one is Hazel and Jamie because, well, I missed them. <3
If you wanna see more I'll probably put them up on my Insta and Twitter accounts, but I will definitely and without a doubt put all of them up on Patreon for all patrons because those people are paying my bills.
Comments
Join the GWS mailing list!
It's free, infrequent, & not annoying.