Smurf Smut
Posted November 29, 2015 at 10:00 pm
Jameson has a strong nostalgia for his childhood and we'll leave it at that.
Here's the old strip with none of that blue paint!
Don't forget, today is the last day you can get 25% off PLUS free shipping on Lelo stuff if you use the code SLINGSHOTS at checkout! So much boldface. Anyway, click below and see if there's anything you like! Enjoy!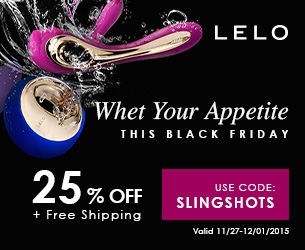 Comments
Join the GWS mailing list!
It's free, infrequent, & not annoying.