Date Strip #4: RUN
Posted September 4, 2017 at 10:00 pm
At this point I think it's safe to share IRL-Actual-David's tale about what happened in his IRL Actual Life after he won the Who Wants A Date With Jamie contest. Here it is, shared by David (dark green) and his wife Crystal (dark pink). Enjoy! (First-time readers, you'll understand the Looney Tunes reference later!)
Hi, GWS readers, Looney Tunes David here. I talked to Danielle, and she thought it might be nice for me to tell the story of how my appearance in GWS led to me getting married.
Back in 2009, I was 30 years old, single, and living in a small town in the desert. I hadn't really done all that much dating, as I was a bit of a late bloomer and I had some pretty high expectations of who I would be with. I had been reading GWS for years, and have always been something of a romantic sap, so when the opportunity to go on a date with Jamie arose, it was too much to pass up. When Danielle wrote back and told me she had actually stopped reading other submissions after reading mine, I was blown away.
I was really excited that I'd won a contest, and that I was going to be a part of one of my favorite webcomics, so of course I told everyone I knew. Most people gave the standard not-all-that-interested response… I had a friend or two that was already reading GWS that really appreciated it… and then there was Crystal.
Crystal here, I was separated from my prior husband a year before we were divorced in August of 2008. I had known David for a few years at work. We were both coders, and obnoxiously good at it, so while the others were scrambling around trying to fix their code, we had time to talk. After the divorce I had told David about my concerns for my children, and my distaste for dating.
Dating was a sore subject, as I had plenty of men interested but not what you would call quality fellows. Dating in front of my young children was just not something I wanted to subject them to, so I only went on dates when they were visiting their father. Dating from this pool was disappointing. I had a house, a successful career and two children. The men that wanted to date me were largely just interested in "servicing" the lonely mother.
I kindly turned them down. After all, there's nothing a man can do for me sexually I can't get from a box. If I was going to be involved again, I wanted a partner.
Dave drew my attention to the web comic, and I had some interest in him. I checked it out and then went back to read the entire GWS series. We emailed back and forth about GWS and other things.
I had always liked Crystal, but hadn't really thought much about it while she was married. Even at this point, her divorce felt pretty fresh, so with her complaints about dating, and me not really knowing how I felt about dating a woman with kids, I was still keeping a respectful distance. Talking about GWS gave us a reason to talk every day through my character's run.
When the strip came out where Jamie and I baked pretzels, Crystal told me how much she missed pretzels. She had spent a number of years in Germany growing up, AND had recently discovered she had Celiac disease (just like Danielle), so of course pretzels were on the no-no list. Well, I decided that just would not do. So I tried my hand at making some gluten-free pretzels. After a little experimentation (and one batch of hard-baked bricks), I made a batch of fairly passable gluten-free pretzels, and brought them into the office. (the following year I made a batch that I presented to Danielle at Phoenix Comic Con, Crystal by my side)
After that, Crystal and I started spending more time together. I still wasn't really pursuing her, but I wanted to get out of the apartment more often, and we had fun together. So we went to a few movies, tried playing a little D&D together… and then she invited me to an SCA (The Society for Creative Anachronism) event.
So by the time he brought me pretzels I was a year and a half from anything serious with a man. Here is this guy I always respected turning my attention to a romantic date comic, and going out of his way to bake me pretzels. We did indeed hang out regularly for a time but he never "came after" me romantically. I was actually quite confused, but happy to enjoy male attention that, frankly, wasn't gross.
The event in question was called "Barmaids". Crystal was competing with various other "wenches" to see who was the best at carrying drinks, cajoling ducats from the crowd, and, well… how good they were with their hands. In the final, tie-breaker event, the finalists had to pick someone from the crowd to have little felt patches attached to their person… and the "wenches" had to recover these tokens… blindfolded. Crystal, apologizing profusely, asked me to be her grope-ee, and of course I could hardly refuse.
I was goaded into competing by my best friend Christie. I was completely uncomfortable with the groping tie-breaker, and it was not an event I had foreknowledge of. If Dave had not been there I would have forfeited. As I looked across the crowd for a volunteer, three men stood up who had flirted with me pretty hard during the flirt competition.
Like hell, boys… As Dave said, I approached him hoping this bawdy event had not already caused him to lose all respect for me, and asked -politely- if I could feel him up.
I did my best to grope for the hidden velcro, blindfolded and without touching him in unseemly ways. I missed one, the other two tied, which made for a final event that I was thankfully excused from.
Now that the competition was over, it was time to don my belly dancing gear and strut my stuff by the fire. I was happy to be free of the competition and I shook it hard. I got cold, and remembered Dave was wearing a cloak. I considered a moment. He'd never once hinted at making a move and I thought… "What the hell…"
I went over, tugged on his cloak and nearly stood against him… "I'm cold."
He put the cloak on me and rubbed my shoulders. I remember how the character of his deep voice changed, somehow becoming deeper, and with a contented thrill. He walked with me to an old stump of a tree where we sat. He asked, "We somehow wandered past friends, didn't we?"
I didn't want to trap the fellow, and to be honest I was content to be single the rest of my life. Men had not been good to me. So I said, "We're still friends. Unless you are actually going to make a move? All you need to do is get up and walk away, and we'll still be friends tomorrow."
He sat there hovering over my lips and said, "I don't think that's going to happen."
And he kissed me.
3 years and 3 days later, we got married, 10 months after that our daughter was born. Now we've been together 5 years… and I have to point back to GWS as the catalyst that got this ball rolling. So, thanks, Danielle! And thanks, Jamie! It may not have worked out between us, but you helped me find love anyway.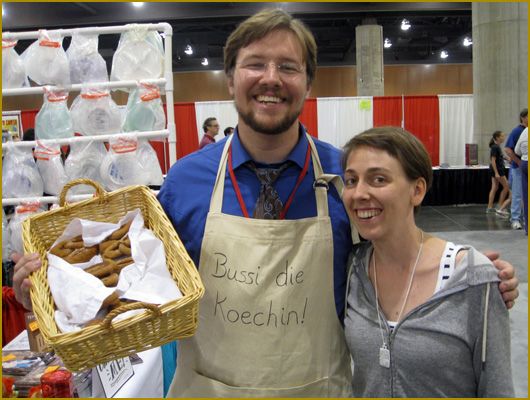 Here's David himself surprising me at a convention with the aforementioned gluten-free pretzels and that handmade apron!! I look underwhelmed but I assure you I was just exhausted.
Tags:
run
,
jamie
,
chaser
,
valentine's day
,
contest
,
david
,
date
,
karaoke
,
halfway house
,
sushi
,
piano
,
anvil
Comments
Join the GWS mailing list!
It's free, infrequent, & not annoying.