A little gift for you.
Posted July 15, 2011 at 04:58 am
Yesterday's update wrapped up 1200 strips in the GWS universe, which means I finally have enough content for Volume Six... this time in full color!
I didn't want to start the next story arc abruptly on a Friday, so instead I hope you'll enjoy this little "chapter break." I'm trying to re-learn watercolors, so I may do this from time to time when it doesn't feel like we're ready for a new story to begin. :)
Additionally, I wanted to say "thanks for reading" by offering today's update as a wallpaper. I'm only including a few sizes for now (click the one you want!), but will happily add more if you request them in the comments section. I'll pick the 3 most popular requests and try to have them up by Friday evening, so let me know soon!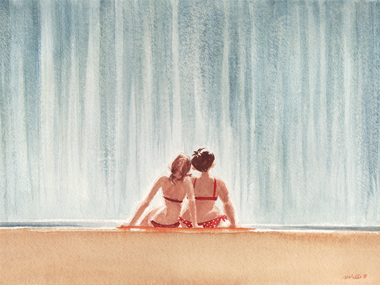 800x600 -- 1024x768 -- 1440x900 -- 1600x900 -- 1920x1080 -- iPhone --- iPad
I was tempted to keep it for myself, as I'm pretty keen on it, but
I'd rather make the original available to you guys
, since I so rarely sell originals these days. I'll ship it out Monday if you purchase it in time; otherwise it won't go out until I'm home in early August, so beware!
Next week:
way
more dildos, I promise.
*apologies for the Twitpic hosting; I can't figure out how to increase the image size limit on Word Press!
Comments
Join the GWS mailing list!
It's free, infrequent, & not annoying.