Appropriate for a farewell week.
Posted June 30, 2014 at 03:39 am
I'd like to thank everyone who came out to Shepherdstown for the kickoff signing last Friday - I had a BLAST meeting so many wonderful, fun people from the area who came out to my very own hometown to visit me at Four Seasons Bookstore (and later hit up the Meck!).
Friday was a mixed bag of joy and sadness for my family. My parents came to town for the signing, and while we were all at the Meck (which is an odd thing to type - my parents aren't exactly the kind of people you find at a bar), my mother received word that her father had passed away.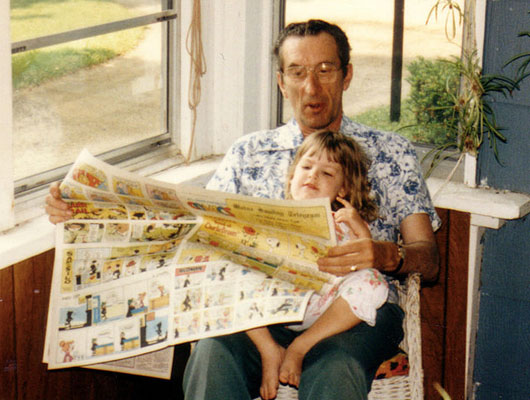 If you've seen the Stripped documentary, you may have caught this photo of me and my grandfather. He loved comics like Beetle Bailey and Blondie, and would read them to me when I was little. I have him to thank for my early love of comic strips, and I later discovered that my love of photography (which was my major in college, as well as my last employed job) likely came from him. He was a skilled studio photographer in his early years, and was a photographer during the Korean war.
While my upcoming summer tour was, of course, planned with the intention of visiting GWS readers across the country, there were two other purposes for the trip: one was simply to drive across the country, as it's something I've always wanted to do. The second was to visit my grandparents. My grandmother lived in California, and I would have seen my grandfather two weeks from now in Colorado Springs.
On the one hand, this makes me want to kick myself for pushing the trip back so long, as my grandmother passed away a year ago as well. On the other hand, the last time I saw him was a wonderful memory, and he may not have been in such great shape if I'd seen him in two weeks. He died in his sleep, and I couldn't ask for a better way for someone I love to pass away.
If you've been following the strip for awhile, you know that when we lost my grandmother last summer, I took a week off from the strip to celebrate my memories of her. Last Friday's comic seems like a good place to stop GWS before I embark on this journey, and I feel it's only fitting to dedicate a week to his memory as well, particularly since Grampa Parker had so much of an impact on my love of comics. :)
Never fear; the guest strips you've been waiting for will start up first thing next Monday!
Comments
Join the GWS mailing list!
It's free, infrequent, & not annoying.