Shepherdstown TONIGHT!!
Posted June 27, 2014 at 03:16 am
No Friday cliffhangers for you. Just love. <3
Signing in Shepherdstown TONIGHT!
Dude! TONIGHT TONIGHT TONIGHT (now you have Phil Collins stuck in your head SORRY) I'll be kicking off the summer tour with our FIRST SIGNING in my own humble hometown of Shepherdstown, WV!
(Yes, I linked Shepherdstown because I'm on the Wikipedia page under their "notable residents" list, although the removal of Courtney Cummz, Anal Starlet of the Year 2007, deeply saddens me.)
(No, of COURSE that last link isn't SFW.)
You can come see me at Four Seasons Bookstore on German Street from 7-9 tonight! We'll have light food & beverages from Mellow Moods and Hazel's own Grapes and Grains (which actually exists), and I'll have both GWS books & merch AND Adventure Time books!
I'm not bringing much with me on my trip this summer, so if you'd like an Adventure Time book - either Playing With Fire or Pixel Princesses - please come out tonight and pick them up! AT sales will go through Four Seasons, so you'll be directly supporting a sweet-as-heck independant bookstore that's been around for DECADES!
Speaking of supporting the store, CHECK THIS OUT: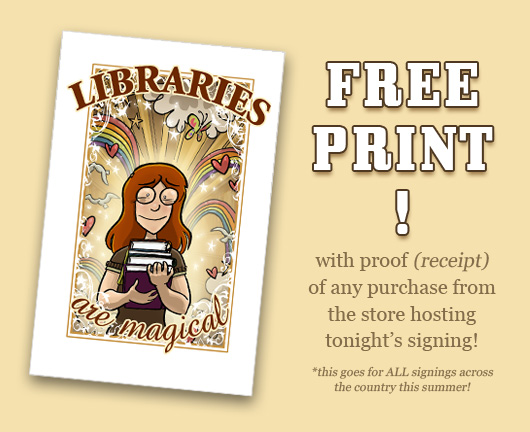 I'll have a stack of these 5.5x8.5" Clarice "Libraries Are Magical" prints FOR FREE for anyone who buys a thing from a store that's hosting me, both today and throughout the rest of the summer! Support our wonderful local shops, y'all!
GWS Scavenger Hunt
If you're in town early, why not look around for some of the places I've drawn from in the strip over the years? Like, perhaps...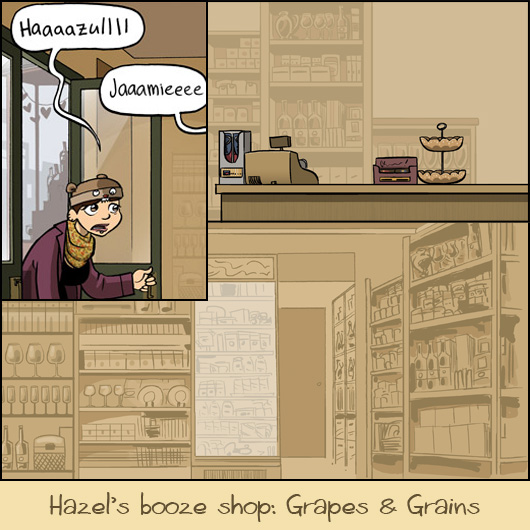 Grapes & Grains, or...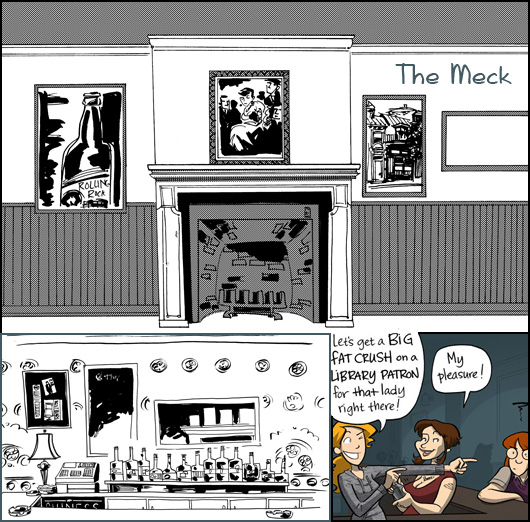 the girls' favorite bar, the Meck (hint: goes by a slightly different name!), or...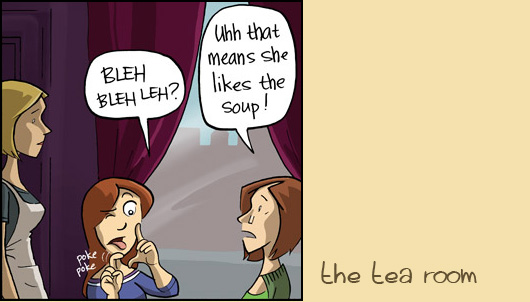 (a bit trickier) the tea room where Melody told Maureen all about oral sex with Chris, or even...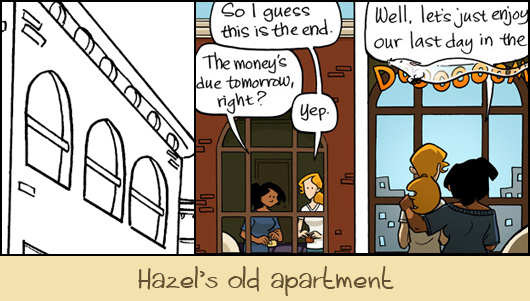 ... trickiest of all, Hazel's coveted old apartment! Just look for the three arched windows.
They're all on German Street (the main street in town). If you're not sure you got it quite right, take a photo and bring it to the signing! Can't wait to see y'al!!
Comments
Join the GWS mailing list!
It's free, infrequent, & not annoying.