Katsucon! (The follow-up.)
Posted February 23, 2011 at 02:01 am
Aww man,
Katsucon
was really great! Thanks so much to everyone who came out. Checking out the costumes was easily the best part of the weekend. Because WHOA.
I hosted two panels on Friday. They were total free-for-alls, and the first one was just me... talking about
me
. Which means I stammered a lot and then resorted to showing everyone my tattoo, because I couldn't think of anything better to do.
Yeah, you missed it. You missed me lifting my shirt for a room full of people. You see what happens when you don't come out to Katsucon? Make a note next year.
My second panel was with the fab cartoonist
Kevin Bolt
, and he basically
wrapped it up in this comic
.
But the crowning moment for me was when housekeeping discovered McPedro copping a feel under her skirt as she dusted.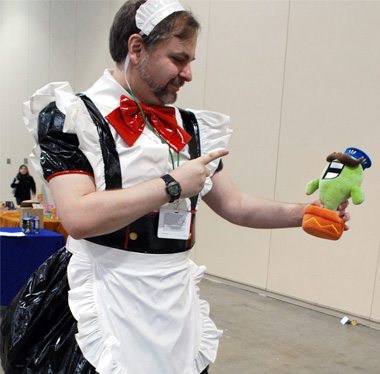 Glad I didn't have to be the one imparting that punishment. Anyway, yeah, that's the new "PRE-ORDER A McPEDRO!" button from now on, because there will never ever be a better photo of him.
Comments
Join the GWS mailing list!
It's free, infrequent, & not annoying.