Seattle this weekend!
Posted February 24, 2011 at 02:01 am
Hey west-coasters!
I'll be on your side of the continent this weekend.
Will I see you there?
Also, I just got a VERY nice surprise: turns out
McPedro plushies WILL be available this weekend at ECCC!
We had a few extra dolls en route to Montreal that wouldn't fit in the main shipment, so they're being shipped to Seattle instead. That also means that we'll have them for
C2E2 in Chicago
March 18-20, as the remaining McPedros will be shipped there afterwards.
ALSO, I'll be filling out a word balloon for every McPedro, so he can be personalized, like so: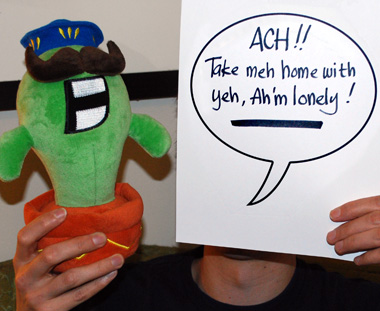 I hope it'll make up for the fact that he doesn't actually talk. At least now he'll say whatever you want him to say. :) Anyway, hope to see you there!
(Thank you, Jan, for the lovely modeling job!)
Comments
Join the GWS mailing list!
It's free, infrequent, & not annoying.