Very early original GWS art!
Posted March 14, 2011 at 01:46 am
Hey, original art fans! I've got something rare for you.
My pal Eva bought
these hand-colored marker drawings of Hazel and Jamie
from me ages ago (they were done way back in 2005). She loves them to pieces, but she's having car troubles, and has to let go of several pieces of her original art collection.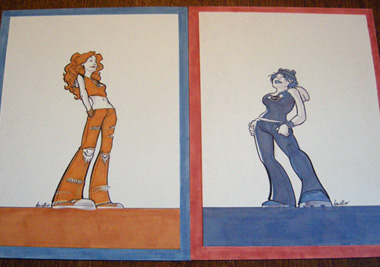 (Scroll down for details and close-ups.)
These two pieces come as a set, mounted on colored board by yours truly, and have been used in lots of my early promotional pieces.
So if you're a fan, a superfan, someone with a birthday coming up, or someone who just really likes original art, you may want to get in on this.  As of this posting, the reserve has not yet been met!
Happy bidding!
Comments
Join the GWS mailing list!
It's free, infrequent, & not annoying.