Hey hey, Chicago!
Posted March 15, 2011 at 02:01 am
Hey midwesterners! I'll be at
Chicago's C2E2
this weekend at
booth #862
(waaay at the back near
Cyanide & Happiness
), along with
Randy
,
Dave Willis
, and
Joel Watson
! We're sharing a booth and
THERE WILL BE MCPEDROS
, I repeat,
MCPEDRO IS COMING TO CHICAGO
.
Obligatory McPedro-with-Maid shot, for my fellow visual learners: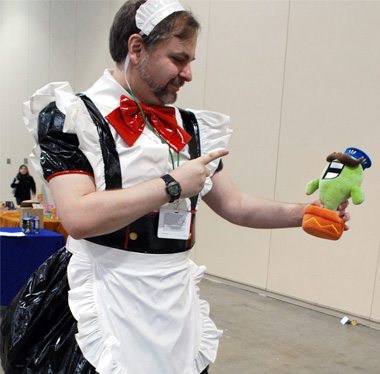 Maid not included.
I'll have with me GWS Books 1-5, buttons, prints (I'll try to get more of the Grammar Strip printed before I go!), Strip Scrabble Posters, and Special K mousepads.
OH, and I'll be bringing with me for the first time in a long time the Kitty Family posters that Randy and I designed together, so that we can sign something when you come to our booth! (And yes, I can draw a silver Ghost Kitty on it for you, now that we have a new addition to the family!)
Hope to see you there!
PS. Dear God please let someone bring me some hot tea.
PPS. The Blind Ferret guys will be way up at the front at #505!
Comments
Join the GWS mailing list!
It's free, infrequent, & not annoying.