GWS Greeting Cards!
Posted April 18, 2011 at 02:01 am
Hey guys! I forgot to mention last night; we're bringing back the
"Happy as a Clam"
card (a la
Hazel and Jamie
), and making Thea's
"I Sowwy" cards
(if you'll recall
this strip
) available as well!
For all of your lesbian/seafood-loving friends, and anyone to whom you owe an "I SOWWY."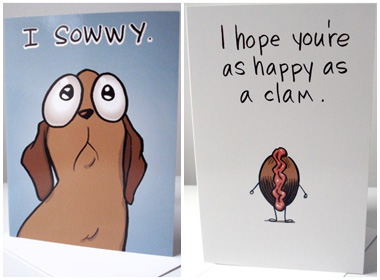 Comments
Join the GWS mailing list!
It's free, infrequent, & not annoying.