Easter Sale ends today! And... PUZZLES.
Posted April 25, 2011 at 02:01 am
Hey guys! Look, I'm repeating the McEaster Cactus image, because it makes the point better than I do: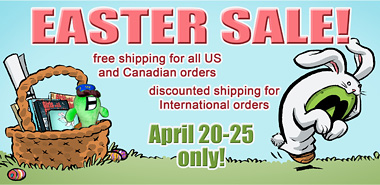 THIS MEANS that today is your LAST DAY to get free/discounted shipping on any order you place at the GWS store! So go buy that thing you wanted that you didn't want to pay shipping on!
And if you're the kind of person who already owns all things GWS, you may be interested in the Chris Yates'
McPedro Puzzle
. (Scroll down a smidge and look for a cactus.)
There is only ONE of these delicious handmade puzzles available, and Chris' work is freaking phenomenal, so if you're all about one-of-a-kind artwork, this one's for you.
That is all!
Comments
Join the GWS mailing list!
It's free, infrequent, & not annoying.