GWS Browser Theme and Super Show this weekend!
Posted April 26, 2011 at 02:01 am
Sheesh, I have no shortage of things to blab about in my blog this week.
First things first, I have a free thing for you! For those of you who would like your browser to look like Hazel and Jamie took it over, you can click on this image: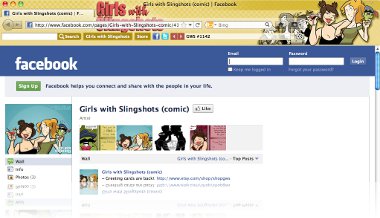 Or, y'know, this link.
The guys over at Thunder Themes whipped up a GWS theme for your GWS needs - it works on both FireFox and IE. It's easy to switch back to your original browser appearance (or a different theme that they offer) if you change your mind - just take a look at the third image in the small gallery for the GWS theme, it'll show you what to do.
Did I mention it's free? IT'S FREE! :D
Okay, now that's out of the way: Super Show!
This weekend, I'll be joining a bunch of talented creators in Reading, PA. This is one of my favorite shows, because the people there are like family to me at this point. Come fall in love with Comic Geek Speak and their brethren, and pick up a McPedro plushy while you're at it. ;)
Because this is a laid-back show, I MAY be doing more detailed sketches than usual while I'm there. We'll see. I rarely do more than a quick sketch at conventions these days, so if you'd like a fancier sketch than what I normally offer, this is your chance!
Also, my friend Rafer Roberts will be exhibiting this year, and his new Plastic Farm compilation will be available! For those who don't know, I illustrated one of Rafer's wacky stories for this book (skip to page 268 for a sneak preview), and it's so offensive I won't even let my mother read it (MOM: DON'T READ IT). So, that should tell you something.
If you can't find Rafer at the CGS show, drop by my table and I'll point him out to you!
Alright, I'm sure I'll have more to yap about in tomorrow's blog post. Until then!
Comments
Join the GWS mailing list!
It's free, infrequent, & not annoying.