One-- no! TWO--NO!! THREE THINGS!!
Posted April 25, 2012 at 02:01 am
Hey guys! A few... things.
First of all, I really botched my Canadian the other day. As an American, I assumed that there was nothing further east than Maine. When I said I'd be in "eastern Canada" next week, I meant
TCAF
in Toronto. My bad! (Do people still say that?)
As an American who's been to Nova Scotia twice, I have no excuse for this.
Also, my short list of Canadian cities "nearby" Calgary was meant as a greeting to people from those areas who will be at the Calgary show this weekend, because I recall LOTS of people making the haul last year!
So, I won't be in Edmonton, Saskatoon, Regina, or Kamloops this weekend. Just Calgary. But I think people from all of those cities should come join us anyway. Because, come on,
Star Trek
.
Second of all, the guest strips are in! I'll actually be running one of them on Friday, because good lord I got so many of them (aka I really want to take Friday off). Guys,
I received 108 guest strip submissions
. If yours was one of them, THANK YOU!! I'm going to have a very hard time picking just 6 from the pack, so I may actually put up 8 or 10, including them on weekends and still returning to regular GWS strips on May 7th as planned.
Would y'all enjoy that? Let me know!
Third: guys,
Lar
made me and
Jeph
a McPintsize. Look.
LOOK.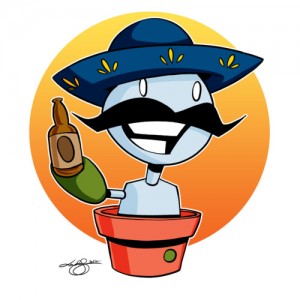 Comments
Join the GWS mailing list!
It's free, infrequent, & not annoying.