We're back! Just in time for the sexy shit.
Posted February 4, 2013 at 02:01 am
Thanks so much for your patience last week, guys! I'm not gonna go on about specifics, but there was a big problem with my website's server, it's been fixed, and we're back home.
The only things we lost were 1) the majority of blog posts and their comments over the last three months, and 2) (this is the sad one) all of the hover text for the comics.
On the one hand, that's sad. On the other hand, if you've read all of the hover text from the last 500 strips, then aren't you a lucky duck? You got the hipster experience of reading words that will never be uttered again (unless I magically remember them all someday) (that won't happen).
Anyway, thank goodness we're back, because I have Valentine's Day offers for you from the
GWS gift shop
and 
Lelo
!
So, first the gift shop. Lauren and I wanted to offer something to readers for V-Day, so we decided to put out a new
Thea and Mimi pendant
for all the lesbians out there (or, y'know, for everyone except people who HATE LOVE):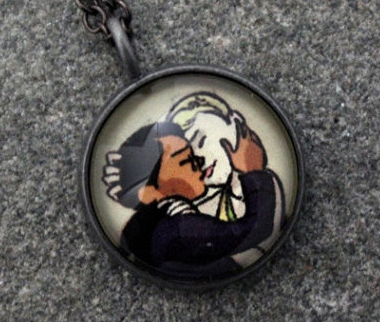 BUT, as they say, THAT'S NOT ALL (nobody actually says that)!
We're also running a huge sale. Huge! EVERY SINGLE ITEM IN THE STORE IS
25% OFF
until the very moment the clock strikes Valentine's Day - so, through February 13th.
Everything in the store
is already marked down, so just have at it!
This means that you still have time to get your Someone Special a GWS-themed Valentine's Day gift. Maybe you're more of a
Jamie-and-Erin-and-dinosaurs
fan? Or we've got the
Maureen and Jameson pendant
for you hetero-married types! Or maybe your SO
likes kittens
(and if they don't why the fuck are you dating them?). Or maybe you're still not over
Hazel and Zach
and you think if you wear these necklaces at the same time on the night of a full moon you can magically wish them back together!
Or if you're a bigger fan of the BFF V-day, why not share this combo set of
Hazel and Jamie in high school
 with your bestie?
Alright, so you've got your GWS-themed V-day gift picked out and discounted, now, what would go well with that, what indeed? Hm? What did you say? Did you say "sex toys?"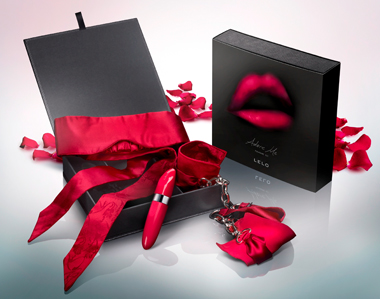 Well lucky you, because
Lelo
is offering yet ANOTHER GWS giveaway, this time for their
Adore Me Pleasure Set
. All you have to do is talk about your dream date in the commenHEY WAIT let's  give this thing a look-over before we piece together our fictional lovefests!
Now, before I opened the box this set comes in, I read the slipcase where it says
"Share this luxurious pleasure set"
blah blah blah, and I gave it a good Liz Lemon eyeroll, because seriously who talks like that.
But guys, they're right: IT IS FUCKING LUXURIOUS!
The box is one of those satin-ribbon magnetic-closure kind of boxes. It's textured, chocolate-colored, square, mmmm-- alright, I get off on package design, moving on.
The Pleasure Set comes with two suuuuuuper soft, silky playthings - a set of fabric handcuffs and a blindfold. That's sweet an' all, but what I'm here to gloat about is this: lipstick-shaped USB-chargeable vibrator.
LIPSTICK-SHAPED USB-CHARGEABLE VIBRATOR.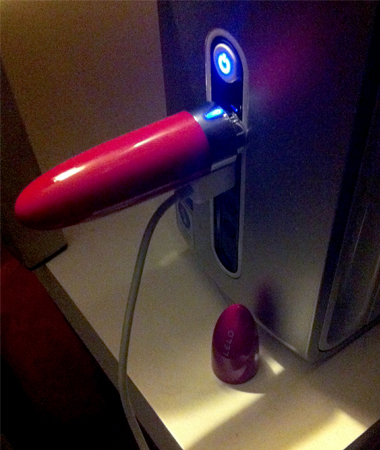 LADIES. IT CHARGES VIA USB. Think of all the places you take your laptop, and now think of all the places where your laptop can take you.
Anyway, yeah, you want this. So how do you get it?
All you have to do is comment in the comments section (at the bottom of this blog post) and
tell us about your dream date.
Now, I know what you're thinking. "This comic just changed its name from Girls with Slingshots to Girls with Spare Me Please." But this is me we're talking about here, I'm hosting this show. So if your Dream Date involves being single, pre-gaming with your girlfriends, embarrassing yourself at the local bar by singing "Hit Me With Your Best Shot" at karaoke with your BFF, and finding the love of your life in the men's bathroom (woops!) as he heroically holds your hair while you puke into a urinal... that counts.
On the same note, if your Dream Date involves lots and lots of cute girls in suit jackets, that counts too. That counts a lot. In fact, I encourage you to go into detail about that.
Alright, have at it! Fellas, you're welcome to join in as well, of course! The winner will be picked at random tomorrow at midnight, so get your answers in by
12:00 am EST Wednesday 2/6
! Good luck!
Comments
Join the GWS mailing list!
It's free, infrequent, & not annoying.