Two days only! B9 Kingdom and BONUS Lelo discount!
Posted February 5, 2013 at 02:01 am
I have two REALLY GOOD THINGS to throw your money at, but they're both gonna self-destruct in like TWO DAYS, so you gotta hurry!
First! Remember that rad book collection I was a part of last year?
B9 Kingdom is putting out ANOTHER set of books
with ANOTHER collection of 4 wonderful artists! And those artists are:
I REALLY dig these artists. I think I'm officially in love with Gigi D.G. (mostly because she's adorable AND her artwork is so gorgeous, but also because saying her name is a delightful treat).
This Kickstarter
ends on Thursday and they've almost hit their $40k push goal! So if you wanna preorder a book, now's the time to do it!
Speaking of which, a few of you have been asking how you can get your mitts on my own B9 book from last year. I have a bunch of them in my home! But I don't know when I'll have time to take orders. So, for now, they'll only be available at conventions. If I ever find time to pack & ship orders at home, you know I'll blow up this blog area with information!
Onward:
LELO!
In addition to
the giveaway that's still going on until midnight Wednesday
 (click that link, or scroll down!), Lelo would also like to gift you with
15% off anything in their store
! Just  use the coupon code 
GWSVDY
at checkout.
Oh, and if you'd like to nudge your man/lady/mom (what?) to get you something from Lelo, you can send them a SEXY HIT, checkitout:
[caption id="attachment_7660" align="aligncenter" width="380"]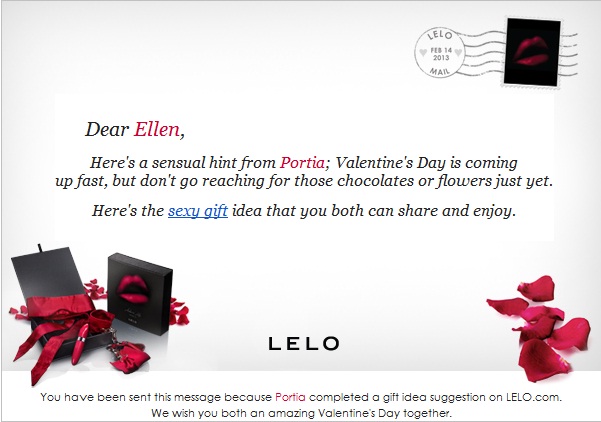 (I love that they picked Ellen & Portia!)
[/caption]
The discount code will run out on Wednesday (2/6) at 11:00 am EST, so act fast if you wanna take advantage of the discount! Happy buzzzzz shoppin'!
Comments
Join the GWS mailing list!
It's free, infrequent, & not annoying.