McPedro Mania! (What to plush next??)
posted Feb.12.13 at 02:01 am

Hey, have you bought your adorable plush McPedro cactus yet?
No??!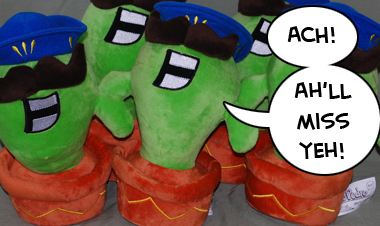 Well, you're shit outta luck, then, because the last remaining unclaimed
37 McPedro plushes
are in my house, and at least 20 of them are prepared to be shipped to
ECCC
in March! So unless you're seeing me in
Seattle
,
Reading
or maaaaaaybe 
Calgary
, I'm afraid your McPedro ship has sailed, my friends.
But!!
I'd like to do a new plushy, and I think you guys should have some say in which character gets to become plushified. Can you help me pick one?
So I have two (which is to say, like, twenty) options:


I can have about a thousand McPedro plushies re-plushed, OR


I can pick a new character to plush up.


What do you guys think? Should McPedro be given a second chance? Or should I fill my Plushy Pit with a new character? (What, you think I don't have a pit full of McPedro plushies? Have you no concept of fun?) (Also my basement is really creepy and needed a pick-me-up and I had two hundred plush McPedros handy.)
Let me know what you want me to do by commenting in the comments section below! Special K, Doom Kitty, and Sprinkles are in the running. Who would you wanna love up & cuddle with?
Comments