Baltimore this weekend!
Posted September 5, 2013 at 02:28 am
Hey, I put up this map last week, but it'll be a lot more useful now for those of you who are going to Baltimore Comic Con this weekend!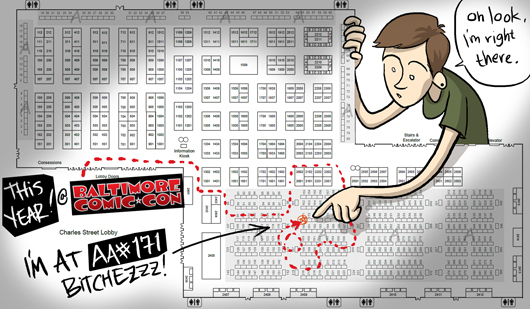 I'll be at Artist Alley table number 171! Come find me and say hello!
I'll also be on the Self Publishing Panel this Saturday at 2:00 pm in Room #305! I'll be up there with Jimmy Palmiotti, Amy Chu, George O'Connor and Carlyn Belefski. Come join us and ask me questions about self-publishing! Or dicks!
By the way, sorry about the laaaaate update yesterday - I fudged the time on it and probably had it set to update around noon instead of EST. My bad! Thanks for coming back even though I'm sure you rage-quit GWS over it.
Comments
Join the GWS mailing list!
It's free, infrequent, & not annoying.