Happy Cyber Monday!
Posted December 2, 2013 at 01:18 am
I hope all you Americans survived Black Friday (and by "survived" I think we can all agree that "stayed indoors and played video games or did something more interesting than become a human parking lot at WalMart" is the most appropriate meaning).
In case you didn't know, Saturday was Small Business Saturday and today is Cyber Monday, and both of these things mean "buy things from small companies!" I'd like to give you a few Christmas gifting ideas that suit this special holiday, starting with an obvious plug for GWS merch! Because if you're reading this then I suspect you don't hate GWS too much.
For starters, the GWS shop at TopatoCo has books, McPedro and Ghost Kitty tee-shirts, Strip Scrabble posters and Special Kitty mouse pads! Sadly this is the first year in FOREVER that I haven't had a special new Christmas item available (and GWS Volume One is in reprint, expected to be available in late December!), BUT… we also have original art, GWS jewelry and other gifts, as well as pewter pins, all available on Etsy. Lauren and Andrew have created some lovely stuff using my characters, and they both have Cyber Monday sales (see below!).

The official GWS store at TopatoCo is OPEN!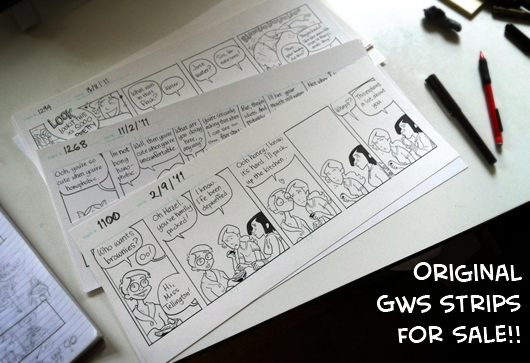 There are a few originals left, and the lovable Nan is packing them this week!

Lauren hand-crafts all of her GWS gifts, and if you use the coupon code HappyHolidays before Tuesday, your order will be 20% off!

Andrew hand-casts these amazing pewter pins and they're super sturdy! He's also having a Cyber Monday sale with free shipping for all orders over $50.
There, that should keep you busy.
While we're at it, you know that TopatoCo represents a TON of other webcomics merchandise, right? Which means you can order a bunch of GWS stuff and have it packed with, say, a Questionable Content book, some clever thing from A Softer World, and a Night Vale shirt and basically be the happiest person n earth.
Or, maybe you'd like to hit up Blind Ferret's shop and get yourself something from Lar of LFG and LICD, or everyone's favorite hobo, Randy of Something*Positive? (They're both coming to Webcomics Rampage with me this weekend, by the way!) Or David Willis of Dumbing of Age & Shortpacked! (He's ALSO COMING TO AUSTIN, this is gonna be a fuckin' blast!)
Additionally, don't forget that Lelo has a special 20% off coupon just for GWS readers, if you'd like something that vibrates deliciously! Use the coupon code MCLELO for the discount. I recommend the Lily. A little bird told me it was grade-A. (That little bird must have a clit like a rock.)
And here are a few of my favorite places to order things online, just to give you a little TMI into my buying habits (and it's not even Tuesday):
Harney & Sons - for tea lovers (I highly recommend the Paris and Genmaicha teas)
JImmyjane - for more vibratey goodness (the Form 2 is still my jam)
Woodchuck Cider - you may not be able to order booze, but if you know a Woodchuck lover, you can get 'em some swag!
Dick Blick - for your art lover (I recommend the Pentel Pocket Brush, my favorite travel pen)
Jet Pens - get your favorite cartoonist some Zebra brush pens, and let them finally graduate from Microns!
Lichen and Lychee - I wear these earrings like 70% of the time, and I love them so so much. The shop is top-notch and the jewelry is perfect (IMO).
Happy shopping and don't forget to support your local comics and book shops, too!
Comments
Join the GWS mailing list!
It's free, infrequent, & not annoying.