GWS Book One is BACK!!
Posted January 22, 2014 at 11:47 pm
I keep thinking I've already said this, but I haven't: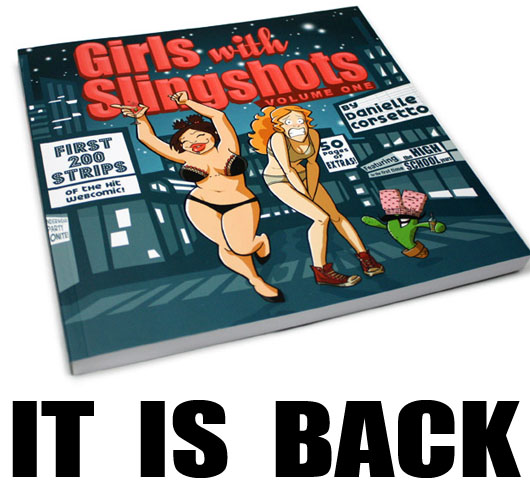 It's back. Did I say it loud enough? THE BOOK IS BACK.
Book one was in reprint for a looooong time, and we just got a fresh new batch. So if you've been itching to buy a copy of the first book, which contains the first 200 strips PLUS 50 pages of extras - including the original high school prequel "Hazelnuts" - this would be the time to buy it. :)
If you have a friend who you KNOW would love GWS, but maybe doesn't love to read stuff on the Internet and prefers paper to pixels, this is their gateway drug. Their gateway to what? Their gateway to eventually understanding you when you say "she's shaped like Jamie" or "that cactus looks like McPedro!" or "DOOOOOOOM."
While you're over there you can also buy books and stuff from your other BFF webcomic, Questionable Content (yeah, I know that doesn't apply to all of you, but like 80% of you just went OMG HOW DID YOU KNOW??), and save on shipping!
PS, thanks again to everyone who sent me recommendations and various generous offerings for my cross-country tour! I'm sifting through the e-mails at a snail-mail pace, so if you haven't heard from me, I'm working on it. It's gonna take a few months to get this fully organized!
Comments
Join the GWS mailing list!
It's free, infrequent, & not annoying.