Help my intern replace her tablet!
Posted March 24, 2015 at 01:15 am
Ah yes, back when I thought I knew how to draw a size 12. Sorry about that, Jamie!
Hey, so my fall intern Nicole (who helped pack Kickstarter rewards last year and LOVES TO STAMP THINGS, which is REALLY HELPFUL) needs to replace her beloved Wacom tablet, which just broke and is making it rather difficult for her to finish her final classes to graduate in the spring.
If you'd like to help donate to her tablet fund (and get some of her rad artwork in return!), please click right here or on the picture below!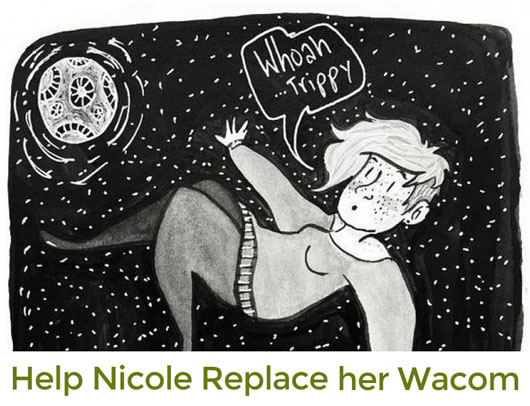 That's it for now! More Danielle-doesn't-know-how-to-draw-bodies-that-aren't-a-size-zero tomorrow, woo!
Tags:
kegstand
,
party
,
gun
,
water gun
,
costumes
,
mrs. jones
,
halloween
,
jamie
,
hazel
,
chaser
,
keg stand
,
Comments
Join the GWS mailing list!
It's free, infrequent, & not annoying.