ECCC! Seattle, here I come!!
Posted March 25, 2015 at 10:00 pm
I know I said I wouldn't touch the old artwork, but I decided to remedy Darren's emaciated figure for this one, because good gravy!
Hey, this is probaby a good time to give you a heads-up about where I'll be this weekend! Seattle, I'll be in you, along with Randy from Something*Positive, at booth #1312 (where we were last year) at ECCC starting tomorrow! LOOK OUT A MAP: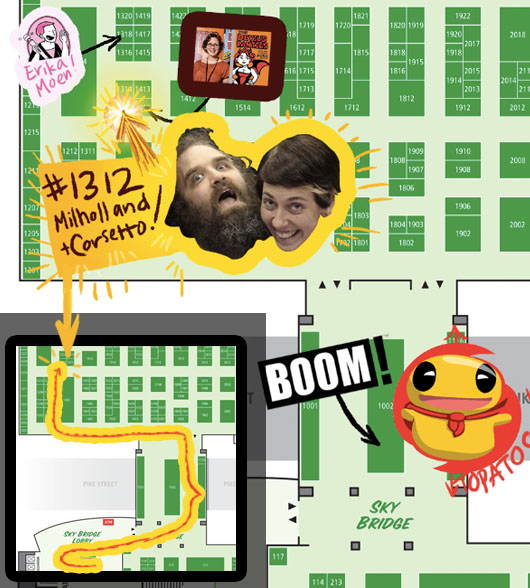 I'll have all of my books (except of course Volume 5), and a bunch of other stuff (whatever I can fit in my bag), and I'll be signing ADVANCE COPIES of my latest Adventure Time graphic novel, "Graybles Schmaybles," with the wonderful artist Bridget Underwood, at the BOOM! table on the sky bridge (across from TopatoCo, how convenient!) on Sunday from 1-2!
Comments
Join the GWS mailing list!
It's free, infrequent, & not annoying.