Nobody told me this was gonna be WORK
Posted June 16, 2014 at 02:36 am
Okay, actually, everybody told me this was going to be work. But I kinda forgot that all the Kickstarter-related work is extra work on TOP of the actual planning of the trip work, and I'm WIPED, and Madness Week hasn't even started yet!
So I'll put up silly filler stuff all this week (I hope you like that sort of thing!) and get ahead on planning the trip and preparing for Packing And Shipping At Danielle's House Weekend.
If you hadn't noticed already, a lot of the signing venues & information are starting to fill in below the tour schedule, to your right! I'm updating it the moment it all gets confirmed.
I actually spent the better part of Sunday night creating this one last Kickstarter reward (the campaign ends Thursday night!), which a lot of people were asking for after I featured the one I made for myself a few weeks back.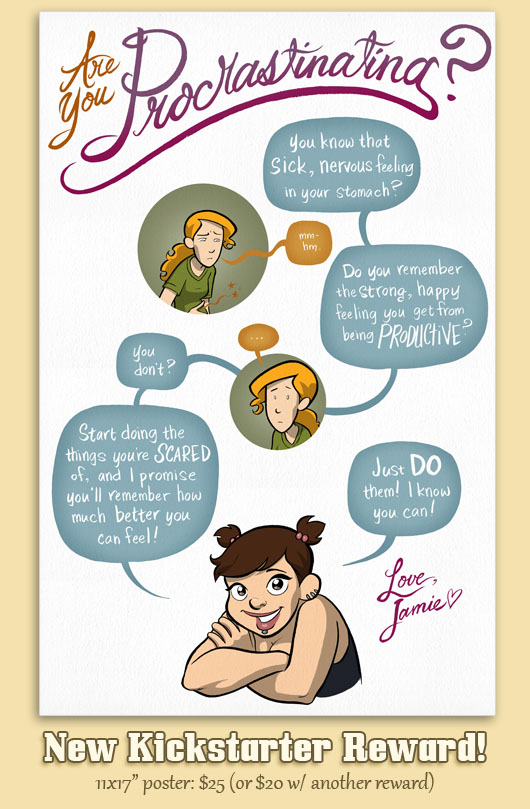 In a twist of irony, I found myself re-reading the original a few times in order to get started on the final version (featuring Hazel this time, because I'm not sending you a picture of myself getting a pep talk from my own imaginary fictional character).
This will be explained better on the Kickstarter page, but in short: If you've already pledged $12 or more to the Kickstarter, you can simply ADD $20 to your reward (I think you just go in and alter the reward amount, without altering the actual reward you already purchased), and we'll detect it and include a poster with your order. :) You're welcome!
Also, if you've already pledged to buy the tour poster ($40), or ANY reward over $150, this poster will already be included for free! I'll be adding it to the two original tour art packages, all large GWS originals ($150), and the cameos. So if you're one of those backers, and you want the Procrastination poster, don't worry about adding $20; it's on me.
For everyone else, the Procrastinatoin poster will cost $25, but that includes ALL shipping, US or Kamloops or Zimbabwe, I don't even care, I'll send it to you without additional shipping costs.
And it's an unlimited item, so I won't run out this time. :)
Alright, my back hurts, and I'm typing this at 3 am and I still have work to do before I sleep. Good morning/afternoon/evening, y'all!
Comments
Join the GWS mailing list!
It's free, infrequent, & not annoying.