KICKSTARTER WHOA!!
Posted May 29, 2014 at 01:31 am
WELL DAMN, that was fast!
For those who just joined the party, I launched my Kickstarter campaign yesterday to raise funds for the summer tour I'm taking, and uuhh it was funded in less than a day? HOLY SHIT, THANKS GUYS!
Most of the very limited rewards are gone, but ALL of the tour art (wallpapers, postcards, prints, and posters - the same image you see above) are available until the campaign ends on June 20th, original GWS strips + print & postcard are available, and the original art for the tour postcard & poster are still available.
All of the tour-specific art is scheduled to be sent off BEFORE I embark on the actual tour, just FYI! I hope one of these rewards piques your interest; if so, get oooonnn it!!
Looks like I'm gonna have to come up with some stretch goals, hm! I know the next $5,000 would help me cover all of my assistants' food and flights back home, toss a little dough to my hard-working interns, and cover any extra shipping costs. A little more than that would help me give more money to my guest artists, which would just be AMAZING, because they're KILLIN' IT for me this summer!
But I'll have more specific numbers for you next week. :)
In the meantime, here's the original (now kinda outdated!) post I made in the middle of the day yesterday, for those who missed it! Thanks again, guys, I'm REALLY excited to come out and visit to many of you!
Regular updates will start back up tomorrow! Slack-ass Danielle will be here for today. ;)
----------------------------------------------------------------------
Alright, my friends, the Kickstarter campaign for my tour has LAUNCHED! Check it out!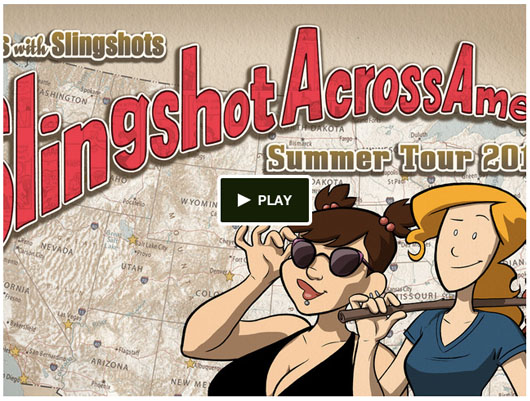 (I made a silly video, too!)
(Also, this is a trick; it's not the actual video, it'll just take you to the Kickstarter page. Like I know how to embed a fuckin' video, I'm old as fuck over here.)
The list of goodies you can get is right there in the loooong description below the video, WITH PICTURES, so please go have a look!
In short, you can get the official tour artwork in the form of wallpapers (ALL backers get this), postcards, prints, and posters! I'm really stoked about the posters. They look like this: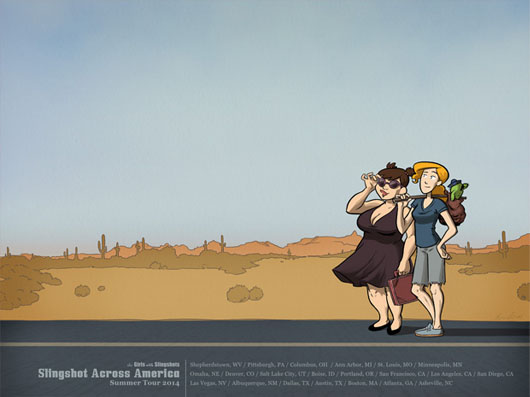 And they'll be printed on pretty, matte-finish paper. :)
A lot of the limited rewards sold out SUPER FAST, but there are still some limited options available (as of this posting anyway)! Such as:
Vintage Pack #1: buttons and Valentine's Day cards, and little goodies! $30
Nude Pack: My B9 Kingdom book, plus a finished nude drawing from my drawing sessions. $50.
Vintage Pack #2: Same as #1, but with an original 9x12" OLD GWS strip! $75
Hand-Drawn Avatar: Almost gone! I'll draw your face! $100
Original GWS Strip: An original 7x17" GWS strip with a character/story line of your choice, plus tour print! $150
The Official Tour Artwork: The original inks & concept sketches for the postcard and poster - 2 separate drawings, each on 14x17" bristol board. Includes the postcard, print, and poster too!
I hope you find something you'd like! Thanks in advance to everyone who's been chipping in! If we go past the initial goal, I'm really looking forward to hitting our stretch goal numbers so that I can afford to pay for the assistants who have offered to donate their time for free, as well as paying my guest artists more! I'll be releasing that information later on. :)
My campaign will be over in just three weeks (we got started a bit late!), so if you know what you want, act fast! Thanks guys!!
Comments
Join the GWS mailing list!
It's free, infrequent, & not annoying.