Bookplates ahoy!
Posted December 2, 2014 at 02:41 am

Bookplates are in, bookplates are in, wooooo!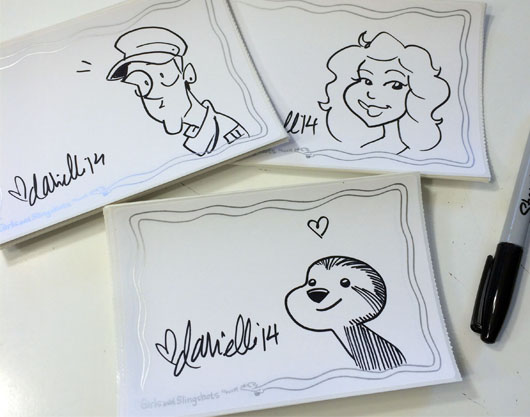 TopatoCo was super clever and made these bookplates their own item, so you can either add them to your order of Hot Off The Presses Volume 8, or to ANY GWS book when you order from TopatoCo, or you can buy them individually for any books you already own that need to be embellished with a sketch and a signature!
They're limited to a hundred and fifty - 25 Tucker, 25 Fiona, and 100 Sloth Erin sketches - so act fast if you want one! I picked three characters who were either introduced or specifically featured in Book 8, in case you were wondering why I chose those three (okay, but also I LOVE DRAWING SLOTHS).
And holy wow, THANKS to everyone who's been contributing to the GWS Patreon campaign! We're a mere $200 away from having my colorist chip in on the bonus material, just FYI! $1+ gets you a few pieces of bonus material, and $5+ gets you every single thing I do for Patreon patrons. So no matter what you pledge, you'll get some extra goodies. :)
Comments
Join the GWS mailing list!
It's free, infrequent, & not annoying.