Erin & Jamie art up for auction!
Posted January 27, 2015 at 03:17 am
What thematically-appropriate timing for Thought Bubble UK (the show I attended in Leeds last fall) to put my little watercolor drawing of Jamie and Erin in their dinosaur costumes up for auction!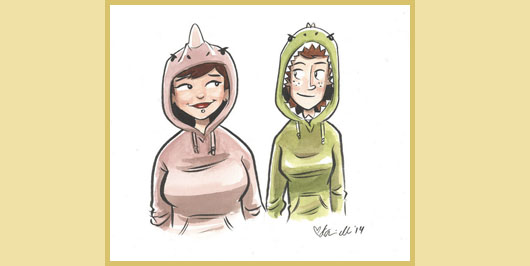 This is the watercolor I sketched up during the show's Saturday Sketching Spotlight with Babs Tarr, Emily Carroll, and Boulet, which you can watch here in this lovely 20-minute video that they produced. (In case you don't know one or all of those fellow panelists, they are all freaking amazing and definitley worth checking out!)
ALL of the proceeds will go toward Barnardo's, so it's going to a good cause AND you get some sweet Erin & Jamie art. :) Click here (or on the picture above) to place a bid!
(Bonus: once it was Boulet's turn, he decided to draw himself in a dinosaur costume to match Jamie and Erin! I could picture them partying together.)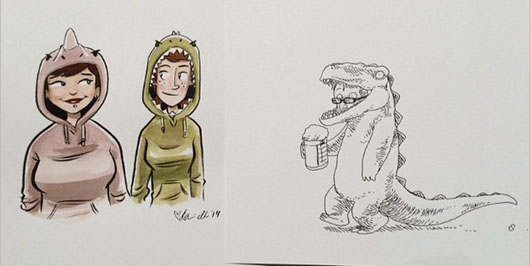 this charity: http://www.barnardos.org.uk/
Comments
Join the GWS mailing list!
It's free, infrequent, & not annoying.